Nkotorvans for Small Loads.
26th January 1911
Page 5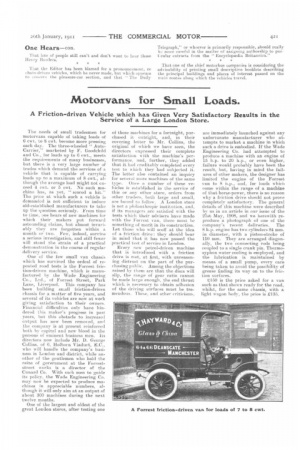 Page 5, 26th January 1911 —
Nkotorvans for Small Loads.
Close
A Friction-driven Vehicle which has Given Very Satisfactory Results in the Service of a Large London Store.
The needs of small tradesmen for motorvans capable of taking loads of 6 cwt. to 8 cwt. become more pressing each day. The three-wheeled " AutoCarrier," marketed by F. Goodchild and Co., for loads up to 6 ewt., meets the requirements of many businesses, but there is a very large number of trades which demand the services of a vehicle that is capable of carrying loads up to a maximum of 8 cwt., although the average load might not exceed 4 cwt. or 5 cwt, No such machine has, as yet, " scored a hit.'' Tho price at which such a vehicle is demanded is not sufficient to induce old-established manufacturers to take up the question seriously. From time to time, one hears of new machines for which their makers put forward astounding claims, but almost invariably they are forgotten within a month or two. Few, indeed, survive a serious investigation, and still fewer will stand the strain of a practical demonstration in the course of regular delivery service.
One of the few small van chassis which has survived the ordeal of repealed road tests is the Forrest friction-driven machine, which is manufactured by the Wade Engineering Co., Ltd., of Forrest Street, Park Lane, Liverpool. This company has been building small friction-driven chassis for a matter of five years, and several of its vehicles are now at work giving satisfaction to their owners. Financial difficulties only have hindered this maker's progress in past years, but this obstacle to increased output has now been removed, and the company is at present reinforced both by capital and new blood in the persons of eminent business men. Its directors now include Mr. D. George Collins. of 6, Holborn Viaduct, E.C., who will handle the company's business in London and district, while another of the gentlemen who hold the reins of government at the Forreststreet works is a director of the Cunard Co. With such men to guide its policy, the Wade Engineering Co. may now be expected to produce machines in appreciable numbers, although it will only aim at an output of about 300 machines during the next twelve months.
One of the largest and oldest of the great London stores, after testing one
of these miutlines for a fortnight, purchased it olitright, and, in their covering letter to Mr. Collins, the original of which we have seen, the directors expressed their complete satisfaction with the machine's performance, and, further, they added that it had creditably completed every test to which they had subjected it. The letter also contained an inquiry fur several more machines of the same type. Once a number of these vehicles is established in the service of this or ally other store, orders from other traders, both large and small, are bound to follow. A London store is not a philanthropic institution, and, if its managers are satisfied with the tests which their advisers have made with the ['arrest van, there must be something of merit in its construction. Let those who will &IX at the idea of a friction drive : they should bear in mind that it has now passed the practical test of service in London.
Every new petrol-driven machine that is introduced with a friction drive is met, at first, with unreasoning distrust on the part of the purchasing public. Among the objections raised by them are that the discs will slip, the range of gear ratio cannot be made large enough, the end thrust which is necessary to obtain adhesion of the driving surfaces must be tremendous. These, and other criticisms,
are immediately launched against any unfortunate manufacturer who attempts to market a machine in which such a drive is embodied. If the Wade Engineering Co. had attempted to produce a machine with an engine of 15 h.p. to 20 h.p., or even higher, failure would probably have been the result, but, having in mind the failures of other makers, the designer has limited the engine of the Forrest van to S h.p., and, for loads which come within the range of a machine of that horse-power, there is no reason why a friction drive should not prove completely satisfactory. The general details of this machine were described by us in an article in our issue of the 21st May, 1908, and we herewith reproduce a photograph of one of the company's recent deliveries. The 8 h.p. engine has two cylinders 84 mm. in diameter, with a piston-stroke of 110 mm. They are arranged diagonally, the two connecting rods being coupled to a single crank pin. Thermosyphon water cooling is employed, and the lubrication is maintained by means of a small pump, every care being taken to avoid the possibility of grease finding its way on to the friction surfaces.
1:150 is the price asked for a van such as that shown ready for the road, whilst, for the same chassis, with a light wagon body, the price is £135.