Yew Equipment and Publications
26th February 1960
Page 63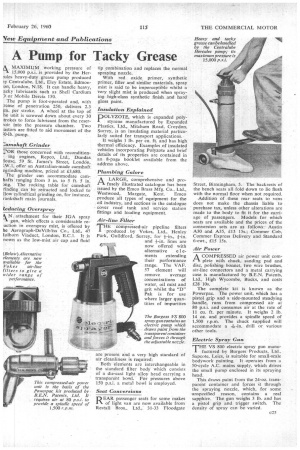 Page 63, 26th February 1960 —
Yew Equipment and Publications
Close
A Pump for Tacky Grease
A MAXIMLIM working pressure of
15,000 p.s.i. is provided by the HerAdes heavy-duty grease pump produced )y Centralube, Ltd., Eley Estate, Edmonon, London, N.I8. It can handle heavy, acky lubricants such as Shell Cardium 3 or Mobile Dercia 150.
The pump is foot-operated and, with :ruse of penetration 250, delivers 2.3 pm per stroke. A wheel at the top of he unit is screwed down about every 30 trokes to force lubricant from the reser'air into the pressure chamber. Two :astors are fitted to aid movement of the i0-1b. pump.
"amshaft Grinder _TOR those concerned with reconditioning engines, Repco, Ltd., Dundas louse, 59 St. James's Street, LonclOn, offer an Australian-made camshaft egrinding machine, priced at £3,680. The grinder can accommodate camhafts ranging from 3 in. to 5 ft. 5 in. mg. The rocking table for camshaft rinding can be retracted and locked to Bow cylindrical grinding on, for instance, rankshaft main journals.
teducing Overspray N attachment for their JGA spray -X gun, which effects a considerable reuction in overspray mist, is offered by he Aerograph-DeVillAss Co., Ltd., 47 lolborn Viaduct, London, E.C.1. It is nown as the low-mist air cap and fluid
tip combination and replaces the normal spraying nozzle.
With red oxide primer, synthetic primer, filler and siniilar materials, spray mist is said to be imperceptible whilst a very slight mist is produced when spraying high-class synthetic finish and hard gloss paint.
Insulation Explained POLYZOTE, which is expanded polystyrene manufactured by Expanded Plastics, Ltd., Mitcham Road, Croydon, Surrey, is an insulating material particularly suited for transport applications.
It weighs 1 lb. per cu. ft. and has high thermal efficiency. Examples of insulated vehicles incorporating Polyzote and brief details of its properties are contained in an 8-page booklet available from the address above.
Plumbing Galore A LARGE, comprehensive and profusely illustrated catalogue has been issued by the Emco Brass Mfg. Co., Ltd., Westwood, Margate, Kent. Emco produce all types of equipment for the oil industry, and sections in the catalogue cover road tank and service station fittings and loading equipment.
Air-line Filter THE compressed-air pipeline filters produced . by Vokes, Ltd., Henley Park, Guildford, Surrey, for f-in., f-in.
and +-in, lines are now offered with
alternative e 1 emerits extending their performance range. The YAP. 57 element will remove average concentrations of water, oil mist and grit whilst the "D" Pak is for use where larger quantities of impurities
are present and a very high standard of air cleanliness is required: Both elements are interchangeable in the standard filter body which consists of a die-cast light alloy head carrying a transparent bowl. For pressures above 150 p.s.i. a metal bowl is employed.
Seat Conversions REAR passenger seats for some makes of light van are now available from Resta!' Bros., Ltd., 31-33 Floodgate
Street, Birmingham, 5. The backrests of the bench seats all fold down to lie flush with the normal floor when not required.
Addition of these rear seats to vans does not make the chassis liable to purchase tax, unless other alterations are made to the body to fit it for the carriage of passengers. Models for which seats are available and the prices of the conversion sets are as follows: Austin A30 and A35, £13 15s.; Commer Cob, Commer Express Delivery and Standard 6-cwt., £15 15s.
Air Power A COMPRESSED air power unit com
plete with chuck, sanding pad and disc, polishing bonnet, two wire brushes, air-line connectors and a metal carrying case is manufactured by B.E.N. Patents, Ltd., High Wycombe, Bucks, and costs £28 10s.
The complete kit is known as the Powerpac. The power unit, which has a pistol grip and a side-mounted steadying handle, runs from compressed air at 80 p.s.i. and consumes air at the rate of 11 Cu. ft. per minute. It weighs 2 lb. 14 oz. and provides a spindle speed of 1,500 r.p.m. The chuck supplied will accommodate a 4K-in. drill or various other tools.
Electric Spray Gun
'THE VS 800 electric spray gun mann' factored by Burgess Products, Ltd.. Sapcote, Leics, is suitable for small-scale bodywork painting. It operates from a 50-cycle A.C. mains supply, which drives the small pump enclosed in its spraying head.
This draws paint from the 24-oz. transparent container and forces it through the spraying nozzle, which, for some unspecified reason, contains a real sapphire. The gun weighs 3 lb. and has a pistol grip and trigger switch. The density of spray can be varied.