T WENTY-TWO years ago the embryo St Ives Sand and Gravel
26th February 1960
Page 54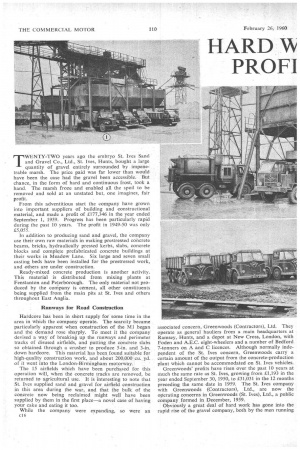 Page 55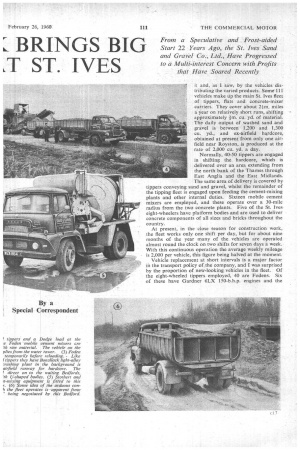 Page 56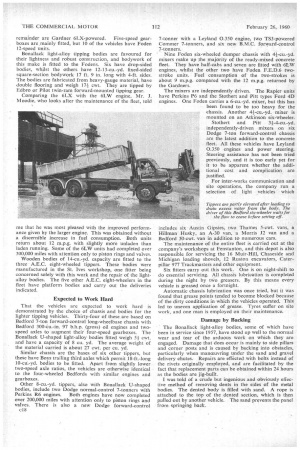 Page 54, 26th February 1960 —
T WENTY-TWO years ago the embryo St Ives Sand and Gravel
Close
Co., Ltd., St. Ives, Hunts, bought a large quantity of gravel entirely surrounded by impenetrable marsh. The price paid was far lower than would have been the case had the gravel been accessible. But chance, in the form of hard and continuous frost, took a hand. The marsh froze and enabled all the spoil to be removed . and sold at an unstated but, one imagines, fair
profit. .
From this adventitious start the company have grown into important suppliers of building and constructional material, and made a profit of £177,346 in the year ended September 1, 1959. Progress has been particularly rapid during the past 10 years. The profit in 1949-50 was only £5,055.
In addition to producing sand and gravel, the company use their own raw materials in making prestressed concrete beams, bricks, hydraulically pressed kerbs, slabs, concrete blocks and complete prefabricated concrete buildings at their works in Meadow Lane. Six large and seven small casting beds have been installed for the prestressed work, and others are under construction.
Ready-mixed concrete production is another activity. This material is distributed from mixing plants at Fenstanton and Peterborough. The only material not produced by the company is cement, all other constituents being supplied from the main pits at St. Ives and others throughout East Anglia.
Runways for Road Construction
Hardeore has been in short supply for some time in the area in which the company operate. The scarcity became particularly apparent when construction of the M1 began and the demand rose sharply. To meet it the company devised a way of breaking up the runways and perimeter tracks of disused airfields, and putting the concrete slabs so obtained through a crusher to produce 5-in. and 3-in. down hardcore. This material has been found suitable for high-quality construction work, and about 200,000 cu. yd. of it went into the London-Birmingharn motorway.
The 15 airfields which have been purchased for this operation will, when the concrete tracks are removed, be returned to agrieultural use. It is interesting to note that St. Ives supplied sand and gravel for airfield construction in this area during the war, and that the bulk of the concrete now being reclaimed might well have been supplied by them in the first place—a novel case of having your cake and eating it too.
While the company were expanding, so were an c16
associated concern, Greenwoods (Contractors), Ltd. They operate as general hauliers from a main headquarters at Ramsey, Hunts, and a depot at New Cross, London, with Foden and A.E.C. eight-wheelers and a number of Bedford 7-tonners on A and C licences. Although normally independent of the St. Ives concern, Greenwoods carry a certain amount of the output from the concrete-production plant which cannot be accommodated on St. Ives vehicles.
Greenwoods' profits have risen over the past 10 years at much the same rate as St. Ives, growing from £1,193 in the year ended September 30, 1950, to £31,031 in the 12 months preceding the same date in 1959. The St. Ives company with Greenwoods (Contractors), Ltd., are now the operating concerns in Greenwoods (St. Ives), Ltd., a public company formed in December, 1959.
Obviously a great deal of hard work has gone into the rapid rise of the gravel company, both by the men running
it and, as .1 Saw; by the vehicles distributing the varied products. Some 111 vehicle's make up the main St. Ives fleet of tippers, flats and concrete-mixer carriers. They cover about 24m, miles a year on relatively short runs, shifting approximately?.,m. cu. yd. of material. The daily output of washed sand and gravel is between 1,200 and 1,300 cu. yd., and ex-airfield hardcore, obtained at present from only one airfield near Royston, is produced at the rate of 2,000 cu. yd. a day.
Normally, 40-50 tippers are engaged in shifting the hardcore, which is delivered over an area extending from the north bank of the Thames through East Anglia and the East Midlands. The same area of delivery is covered by tippers conveying sand and gravel, whilst the remainder of the tipping fleet is engaged upon feeding the cement-mixing plants and other internal duties. Sixteen mobile cement mixers are employed, and these operate over a 30-mile radius from the two concrete plants. Five of the St. Ives. eight-wheelers have platform bodies and are used to deliver concrete components of all sizes and bricks throughout the country.
At present, in the close season for construction work, the fleet works only one shift per day, but for about nine months of the year many of the vehicles are operated almost round the clock on two shifts for seven days a week. With this continuous operation the average weekly mileage is 2,000 per vehicle, this figure being halved at the moment.
Vehicle replacement at short intervals is a major factor in the transport policy of the company, and I was surprised by the proportion of new-looking vehicles in the fleet. Of the eight-wheeled tippers employed, 40 are Fodens. Six of these have Gardner 6LX 150-b.h.p engines and the remainder are Gardner 6LX-powered. Five-speed gearboxes are ,mainly fitted, but 10 of the vehicles have Foden 12-speed units.
Bonallack light-alloy tipping bodies are favoured for their lightness and robust construction, and bodywork of this make is fitted to the Fodens. Six have drop-sided bodies, whilst the others have 12-13-cp.-yd. fixed-sided square-section bodywork 17 ft. 9 in. long with 4-ft. sides. The bodies are fabricated from heavy-gauge material, have double flooring and weigh 171 cwt. They are tipped by Edbro or Pilot twin-ram forward-mounted tipping gear.
Comparing the 6LX with the 6LW engine, Mr. J. Moodie, who looks after the maintenance of the fleet, told me that he was most pleased with the improved performance given by the larger engine. This was obtained withont a discernible increase in fuel consumption. Both units return about 12 m.p.g. with slightly more unladen than laden running. Some of the 6LW units bad completed over 300,000 miles with attention only to piston rings and valves.
Wooden bodies of 14-cu.-yd. capacity are fitted to the three • A.E.C. eight-wheeled tippers. These .bodies were manufactured in the St. Ives workshop, one fitter being concerned solely with this work and the repair of the lightalloy bodies. The five other A.E.C. eight-wheelers in the fleet have platform bodies and carry out the deliveries indicated.
Expected to Work Hard
That the vehicles are expected to work hard is demonstrated by the choice of chassis and bodies for the lighter tipping vehicles. Thirty-four of these are based on Bedford 7-ton forward-control long-wheelbase chassis with Bedford 300-cu.-in. 97 b.h.n. (gross) oil engines and twospeed axles to augment their four-speed gearboxes. The Bonallack U-shaped light-alloy bodies fitted weigh 51 cwt. and have a capacity of 8 Cu. yd. The average weight of the material carried is about 27 cwt. per cu. yd.
Similar chassis are the bases of six other tippers, but these have Boys trailing third axles which permit 18-ft.-long JO-cu.-yd. bodies to be fitted. Apart from slightly lower two-speed axle ratios, the vehicles are otherwise identical to the four-wheeled Bedfords with similar engines and gearboxes.
Other 8-cu.-yd. tippers, also with Bonallack U-shaped bodies, include two Dodge normal-control 7-tonners with Perkins R6 engines. Both engines have now completed over 200,000 miles with attention only to piston rings and valves. There is also a new Dodge forward-control c18 7-tonner with a Leyland 0.350 engine, two TS3-powcred Comtner 7-tonners, and six new B.M.C. forward-control 7-tonners.
• Nine Foden six-wheeled dumper chassis with 41-cu.-yd.
mixers make up the majority of the ready-mixed concrete fleet. They have half-cabs and seven are fitted with 6LW engines, whilst the other two have Foden F.E.D.6 twostroke units. Fuel consumption of the two-strokes is about 9 m.p.g. compared with the 12 m.p.g. returned by the Gardners.
The mixers are independently driven. The Rapier units have Perkins P6 and the Stothert and Pitt types Ford 4D engines. One Foden carries a 6-cu.-yd. mixer, but this has been found to be too heavy for the chassis. Another 41-cu.-yd. mixer is mounted on an Atkinson six-wheeler.
Stothert and Pitt 31-4-cu.-yd. independently-driven mixers on six Dodge 7-ton forward-control chassis are the latest addition to the concrete fleet. All these vehicles have Leyland 0.350 engines and power steering. Steering assistance has not been tried previously, and it is too early yet for it to be apparent whether the additional cost and complication are justified.
For inter-works communication and site operations, the company run a selection of light vehicles which includes six Austin Gipsies, two Thames 5-cwt. vans, a Hillman Husky, an A-30 van, a Morris J2 van and a Bedford 30-cwt. van in addition to numerous cars.
The maintenance of the entire fleet is carried out at the company's workshops at Fenstanton, and this depot is also responsible for servicing the 16 Muir-Hill, Chaseside and Michigan loading shovels, 12 Ruston excavators, Caterpillar 977 Trackmasters and other equipment.
Six fitters carry out this work. One is on night-shift to do essential servicing. All chassis lubrication is completed during the night by to greasers. By this means every vehicle is greased once a fortnight.
Automatic chassis lubrication was once tried, but it was found that grease points tended to become blocked because of the dirty conditions in which the vehicles operated. This led to uneven application of grease. Tyres suffer on site work, and one man is employed on their maintenance.
Damage by Backing
The Bonallack light-alloy bodies, some of which have been in service since 1957, have stood up well to the normal wear and tear of the arduous work on which they are engaged. Damage that does occur is mainly to side pillars and corner posts and is caused by backing into obstacles, particularly when manceuvring under the sand and gravel delivery chutes. Repairs are effected with bolts instead of the rivets originally employed, and are facilitated by the fact that replacement parts can be obtained within 24 hours as the bodies are jig-built.
I was told of a crude but ingenious and obviously effective method of removing dents in the sides of the metal bodies. The dented body is filled with sand. A rope is attached to the ton of the dented section, which is then pulled out by another vehicle. The sand prevents the panel from springing back.