Psychological Aspect of Accidents
26th February 1960
Page 173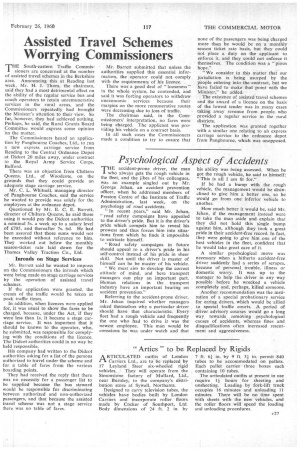 Page 173, 26th February 1960 —
Psychological Aspect of Accidents
Close
THE accident-prone driver, the man who always gets the rough vehicle in the fleet, and the jibes of his colleagues, was an example singled out by Mr. George Jehan, an accident prevention officer, when he addressed members of Preston Centre of the Institute of Traffic Administration, last week, on the psychology of road accidents.
"In recent .years," said Mr. Jehan, "road safety campaigns have appealed to the driver's pride. But it is the driver's pride which compels him to reveal his prowess and thus forces him into situations from which he finds it impossible to extricate himself.
"Road safety campaigns in future should appeal to a driver's pride in his self-control instead of his pride in sheer skill. Not until the driver is master of himself can he be master of his vehicle.
"We must aim to 'develop the correct attitude of mind, and here transport managers can play an important part. Human relations in the transport industry have an important bearing on accident prevention."
Referring to the accident-prone driver, Mr. Jehan inquired whether managers asked themselves why a particular driver should have that characteristic. Every fleet had a rough vehicle and frequently the one who had to drive it was the newest employee. This man would be conscious he was under watch and that his ability was being assessed. When he got the rough vehicle, he said to himself: "This is all I am fit for."
If he had a bump with the rough vehicle, the management would be disinclined to give him a better one, so he would so from one inferior vehicle to another.
How much better it would be, said Mr. Jehan, if the management instead were to take the man aside and explain that they did not hold this single bump against him, although they took a great pride in their accident-free record. In fact, they were going to give him .one of the best vehicles in the fleet, confident that he would take great care of it.
A similar psychological move was necessary when a hitherto accident-free driver suddenly had a series of scrapes, because of personal trouble, illness or domestic worry. It was up to the manager to help the driver in any way possible before he wrecked a vehicle completely and, perhaps, killed someone.
Another recommendation was the institution of a special probationary service for erring drivers, which would be allied to special traffic courts. A period of driver advisory courses would go a long way towards removing psychological causes of accidents, whereas fines and disqualifications often increased resentment and aggressiveness.