" Artics " to be Replaced by Rigids
26th February 1960
Page 173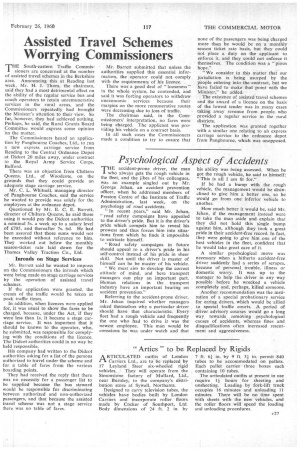 Page 173, 26th February 1960 —
" Artics " to be Replaced by Rigids
Close
ARTICULATED outfits of London Carriers Ltd., are to be replaced by 17 Leyland Steer six-wheeled rigid
vehicles. They will operate from the Simonstone factory of Mullard, Ltd., near Burnley, to the company's distribution store at Sywell, Northants.
Designed to carry television tubes, the vehicles have bodies built by London Carriers and incorporate roller floorrs made by Cocker of Southport, Ltd. Body dimensions of 24 ft. 2 in. by
7 ft. 61 in. by 9 ft. 31 in. permit 840 tubes to be accommodated on pallets. Each pallet .carries three boxes each containing 10 tubes.
The articulated outfits at present in use require 4 hours for sheeting and unsheeting. Loading by fork-lift truck occupies 16 minutes and unloading 11 minutes. There will be no time spent with sheets with the new vehicles, and the roller floors will speed the loading and unloading procedures.