Grant• for Tours Take-over
26th February 1960
Page 147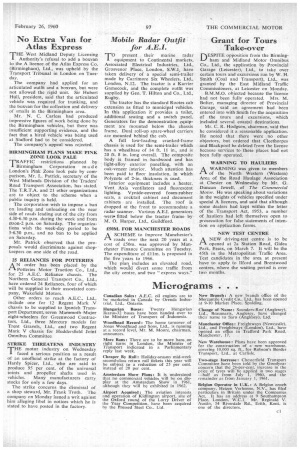 Page 147, 26th February 1960 —
Grant• for Tours Take-over
Close
Keywords :
nESPITE opposition from the Birming
ham and Midland Motor Omnibus Co., Ltd., the application by Provincial Garage (Leicester), Ltd., to take over certain tours and excursions run by W. H. Smith (Coal and Transport), Ltd., was granted by the East Midland Traffic Commissioners, at Leicester on Monday.
B.M.M.O. objected because the licence had not been fully operated. Mrs. M. Bolter, managing director of Provincial Garage, said an agreement had been entered into with Smith for the acquisition of the tours and excursions, which included several coastal destinations.
Mr. C. R. Hodgson, chairman, said that he considered it a reasonable application. He noted that there were no other objectors, but ordered that Cleethorpes and Blackpool be deleted from the licence because services to these places had not been fully operated.
WARNING TO HAULIERS
AWARNING was given to members of the North Western (Western) Area of the Road Haulage Association at Chester on Wednesday by Mr. G. Duncan Jewell, of The Commercial Motor. He was speaking about variations in the weights of vehicles specified under special A licences, and said that although some dealers had kept within the letter of the .Transport Act, 1953, a number of hauliers had left themselves open to prosecution for false statements of intention on application forms.
NEW TEST CENTRE ANEW driving-test centre is to be opened at 2a Station Road, Gidea Park, Essex, on March 7. It will be the 45th in the Metropolitan Traffic Area. Test candidates in the area at present have to apply to Ilford and Brentwood centres, where the waiting period is over two months.