Tests for Best Air-intake Position
26th February 1954
Page 51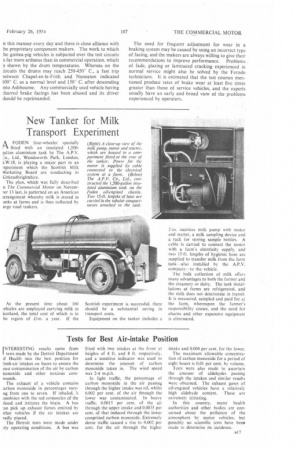 Page 51, 26th February 1954 —
Tests for Best Air-intake Position
Close
INTERESTING results came from I tests made by the Detroit Department Health into the best position for :resh-air intakes on buses to ensure the east contamination of the air by carbon nonoxide and other noxious com)ounds.
The exhaust of a vehicle contains :arbon monoxide in percentages varyng from one to seven. If inhaled. it :ombines with the red corpuscles of the )lood and irritates the brain. A bus an pick up exhaust fumes emitted by )ther vehicles if the air intakes are )adly placed.
The Detroit tests were made under :ity operating conditions. A bus was fitted with two intakes at the front at heights of 4 ft. and 8 ft. respectively. and a sensitive indicator was used to determine the amount of carbon monoxide taken in. The wind speed was 2-4 m.p.h.
In light traffic, the percentage of carbon monoxide in the air passing through the higher intake was nil, whilst 0.002 per cent, of the air through the lower was contaminated. In heavy traffic, 0.0015 per cent, of the air through the upper intake and 0.0035 per cent. of that induced through the lower comprised carbon monoxide. Extremely dense traffic caused a rise to 0.002 per cent. for the air through the higher intake and 0.004 per cent, for the lower.
The maximum allowable concentration of carbon monoxide for a period of eight hours is 0.01 per cent. by volume.
Tests were also made to ascertain the amount of aldehydes passing through the intakes and similar results were obtained. The exhaust gases of oil-engined vehicles have a relatively high aldehyde content. These are extremely irritating.
In this country. many health authorities and other bodies are concerned about the pollution of the atmosphere by motor vehicles, but .possibly no scientific tests have beep made to determine its incidence.