Latest Addition to Food Manufacturer's Fleet U SED on a shuttle
26th February 1954
Page 39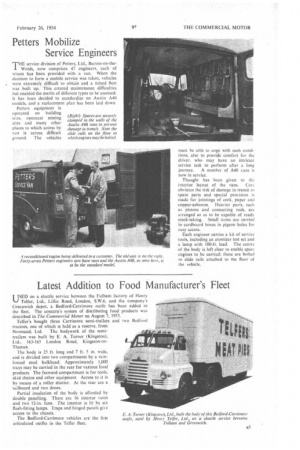 Page 39, 26th February 1954 —
Latest Addition to Food Manufacturer's Fleet U SED on a shuttle
Close
service between the Fulham factory of Henry Teller, Ltd., Lillie Road, London, S.W.6, and the company's Greenwich depot, a Bedford-Carrimore outfit has been added to the fleet. The concern's system of distributing food products was described in The Commercial Motor on August 7, 1953.
Telfer's bought three Carrimore semi-trailers and two Bedford tractors, one of which is held as a reserve, from Normand, Ltd. The bodywork of the semitrailers was built by E. A. Turner (Kingston), Ltd., 163-165 London Road, Kingston-onThames.
The body is 25 ft. long and 7 ft. 5 in. wide, and is divided into two compartments by a reinforced steel bulkhead. Approximately 1,000 trays may be carried in the rear for various food products. The forward compartment is for tools, skid chains and other equipment. Access to it is by means of a roller shutter. At the rear are a tailboard and two doors.
Partial insulation of the body is afforded by double panelling. There are 16 interior vents and two 12-in. fans. The interior is lit by six flush-fitting lamps. Traps and hinged panels give access to the chassis.
The Bedford-Carrimore vehicles are the first articulated outfits in the Teller fleet..