75 Miles for Twomile Journey
26th February 1954
Page 37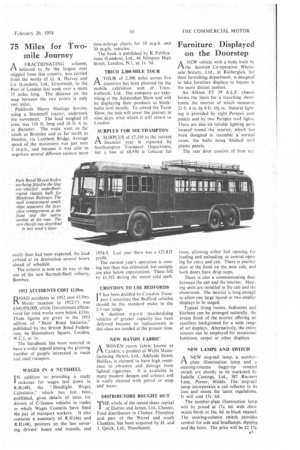 Page 37, 26th February 1954 —
75 Miles for Twomile Journey
Close
AiFRACTIONATING column, believed to be the largest ever shipped from this country, was carried from the works of G. A. Harvey and Co. (London), Ltd., Greenwich, to the . Port of London last week over a route 75 miles long. The distance on the map between the two points is only two miles.
• Pickfords Heavy Haulage Service, using a Scammell tractor, undertook the movement. The load weighed 65 tons. was 110 ft. long and 10 ft. 6 in. in diameter. The route went as far south as Bromley and as far north as Hendon. via Lambeth Bridge. Average speed of the movement was just over 2 m.p.h.. and because it was able to negotiate several different corners more easily 'than had been expected, the load arrived at its destination several hours ahead of schedule.
The column is now on its way to the site of the new Burmah-Shell refinery, Bombay.
1952 ACCIDENTS COST £139m.
ROAD accidents in 1952 cost £139m. Motor taxation in 1952-53 was £360,958,000, whilst Government allocations for road works were below £33m. These figures are given in the 1953 edition of " Basic Road Statistics," published by the British Road Federalion, 4a Bloomsbury Square, London, W.C.1, at Is.
The handbook has been restyled to base a wider appeal among the growing number of people interested in roads and road transport.
WAGES IN A NUTSHELL
IN addition to providing a ready I reckoner for wages laid down in R.H.(48). the "Headlight Wages Calculator," which has just been. published, gives details of rates for drivers of C-licence vehicles in trades in which Wages Councils have fixed the pay of transport workers. It also contains a summary of R.H,(46) and R.H.(48), pointers on the law covering drivers' hours and records, and
time-mileage charts for 20 m.p.h. and 30 m.p.h. vehicles.
The hook is published by K Publications (London), Ltd., 46 Islington High Street, London, N.1, at Is. 3d.
TRICO 2,300-MILE TOUR
ATOUR of 2,300 miles across five countries has been planned for the mobile exhibition unit of TricoFolberth, Ltd. The company arc exhibiting at the Amsterdam Show and will be displaying their products at Stockholm next month. To attend the Turin Show, the unit will cover the journey in nine days, after which it will return to London.
SURPLUS FOR SOUTHAMPTON
A SURPLUS. of £7,310 in the current financial year is expected by Southampton Transport Department, but a loss of £8,930 is forecast for
1954-5. Last year there was a 425,835 profit The current year's operation is costing less than was estimated, but receipts are also below expectations. These fell by £1,192 during the recent cold spell.
CROYDON TO USE BEDFORDS
IT has been decided by Croydon Trans!. port Committee that Bedford vehicles should be the standard make in the 2-5-ton range.
A decision upon standardizing vehicles of greater capacity has been deferred because no replacements in this class arc needed at the present time.
NEW RAYON FABRIC
A WOVEN rayon fabric known as
Carskin, a product of Welfit Manufacturing (Sales), Ltd.. Adelaide Street, Halifax, is claimed to have high resistance to abrasion and damage from lighted cigarettes. It is available in many modern designs and colours and is easily cleaned with petrol or soap and water.
DISTRIBUTORS BOUGHT OUT
THE whole of the issued share capital of Dutton and James, Ltd., Chester, Ford distributors in Chester, Flintshire and part of the Wirral and south Cheshire, has been acquired by H. and J. Quick, Ltd., Manchester.