Minister in Favour of Reputable Clearing Houses
26th February 1954
Page 36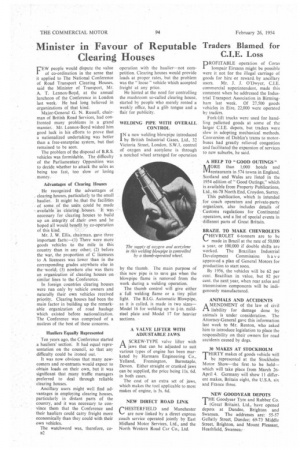 Page 36, 26th February 1954 —
Minister in Favour of Reputable Clearing Houses
Close
F"people would dispute the value of co-ordination in the sense that it applied to The National Conference of Road Transport Clearing Houses, said the Minister of Transport, Mr. A. T. Lennox-Boyd, at the annual luncheon of the Conference in London last week. He had long believed in organizations of that kind.
Major-General G. N. Russell, chairman of British Road Services, had confronted many problems in a grand manner. Mr. Lennox-Boyd wished him good luck in his efforts to prove that a nationalized undertaking was better than a free-enterprise system, but that remained to be seen.
The problem of the disposal of B.R.S. vehicles was formidable. The difficulty of the Parliamentary Opposition was to decide whether to attack the sales as being too fast, too slow or losing money.
Advantages of Clearing Houses
He recognized the advantages of clearing houses, particularly to the small haulier. It might be that the facilities of some of the units could be made available as clearing--houses. It was necessary for clearing houses to build up an integrity of _their own and he hoped all would benefit by co-operation of this kind.
Mr. J. W. Ellis, chairman. gave three important facts:—(l) There were more goods vehicles to the mile in this country than in any other; (2) before the war, the proportion of C licensees to A licensees was lower than in the corresponding grades anywhere else in the' world; (3) nowhere else was there an organization Of clearing houses on similar lines to the Conference.
In foreign countries clearing houses were run only by vehicle owners and naturally their own vehicles received priority. Clearing houses had been the main factor in building up the remarkable organization of road haulage which existed before nationalization. The Conference was comprised of a nucleus of the best of these concerns.
Hauliers Equally Represented Ten years ago, the Conference started a hauliers' section: It had equal representation on the council, so that any difficulty could be ironed out.
It was now obvious that many newcomers and re-entrants would expect to obtain loads on their own, but it was significant that many traffic managers preferred to deal through reliable clearing houses.
Ancillary users might well find advantages in employing clearing houses, particularly in distant parts of the country, and it was necessary to convince them that the Conference and their hauliers could carry freight more economically than they could with their own vehicles.
The watchword was, therefore, coB2 operation with the haulier—not competition. Clearing houses would provide loads at proper rates, but the problem was the " loose " vehicle which accepted freight at any price.
He hinted at the need for controlling the mushroom so-called clearing house, started by people who merely rented a weekly office, had a glib tongue and a flair for publicity.
WELDING PIPE WITH OVERALL CONTROL TN a new welding blowpipe introduced I by British Industrial Gases, Ltd., 32 Victoria Street, London, S.W.I, control of oxygen and acetylene is through a notched wheel arranged for operation by the thumb. The main purpose of this new pipe is to save gas when the blowpipe flame is removed from the work during a welding operation.
The thumb control will give either a full welding flame or a tiny pilot light. The BIG. Automatic Blowpipe, as it is called, is made in two sizes— Model 16 for welding up to 1-in. mildsteel plate and Model 17 for heavier sections.
A VALVE LIFTER WITH ADJUSTABLE JAWS.
ASCREW-TYPE valve lifter with jaws that can be adjusted to suit various types of engine has been marketed by Harmans Engineering Co.,
Yel land, Fremington. Barnstaple, Devon. Either straight or cranked jaws can be supplied, the price being I ls. 6d. in both cases.
The cost of an extra set of jaws, which makes the tool applicable to most makes of engine, is 5s. 6d.
NEW DIRECT ROAD LINK rHESTERFIELD and Manchester are now linked by a direct express .coach service operated jointly by East Midland Motor Services, Ltd., and the North Western Road Car Co., Ltd.