Government Funds Inadequate
26th February 1954
Page 33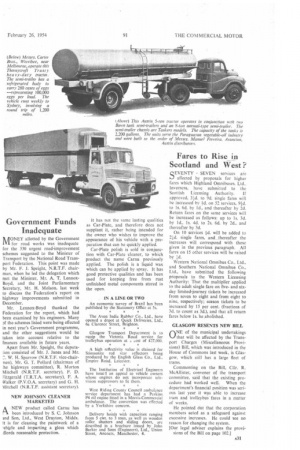 Page 33, 26th February 1954 —
Government Funds Inadequate
Close
MONEY allotted by the Government for road works was inadequate for the 330 urgent road-improvement schemes suggested to the Minister of Transport by the National Road Transport Federation. This point was made by Mr. F. J. Speight, N.R.T.F. chairman, when he led the delegation which met the Minister, Mr. A. T. LennoxBoyd, •and the Joint Parliamentary Secretary, Mr. H. Molson, last week to discuss the Federation's report on highway improvements submitted in December. Mr. Lennox-Boyd thanked the Federation for the report, which had been examined by his engineers. Many A the schemes listed were being effected in next year's Government programme, and the other suggestions would be taken into account relative to the finances available in future years. Apart from Mr. Speight, the deputa:ion consisted of Mr. I. Janes and Mr.
W.H. Sparrow (N.R.T.F. vice-chairnen), Mr. G. T. Pollard (chairman of
h e highways committee), R. Morton Mitchell (N.R.T.F. secretary), F. D. Fitzgerald (T.R.T.A. secretary), F. A. Walker (P.V.O.A. secretary) and G. H. Mitchel! (N.R.T.F. assistant secretary).
NEW JOHNSON CLEANER MARKETED
A NEW product called Carnu has n . been introduced by S. C. Johnson Ind Son, Ltd., West Drayton, Middx. It is for cleaning the paintwork of a rehiele and irnparting a gloss which .ffords reasonable protection. It has not the same lasting qualities as Car-Plate, and therefore does not supplant it, rather being intended for
the owner who wishes to improve the appearance of his vehicle with a pre
paration that can be quickly applied. Car-Plate polish is sold in conjunction with Car-Plate' cleaner, to which product the name Carnu previously applied. The polish is a liquid wax which can be applied by spray. It has good protective qualities and has been used for keeping free from rust unfinished metal components stored in the open.