24-hour Si ce for the Motor Industry
26th February 1954
Page 142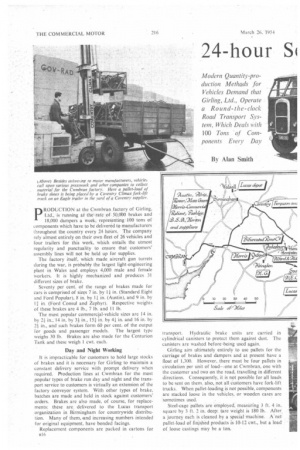 Page 143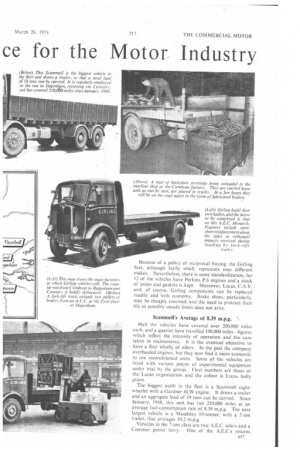 Page 144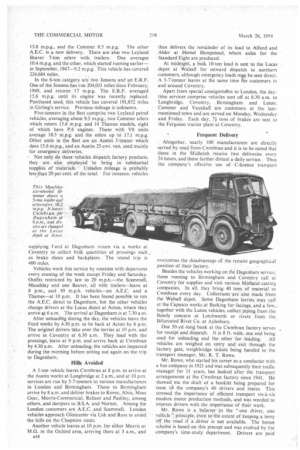 Page 147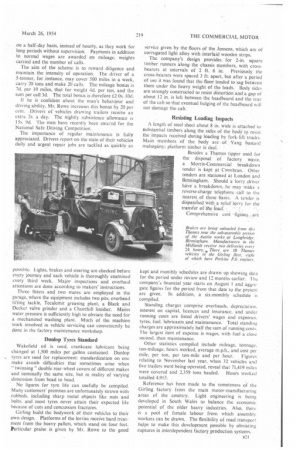 Page 142, 26th February 1954 —
24-hour Si ce for the Motor Industry
Close
By Alan Smith
pRODUCTION at the Cwmbran factory of Girling, Ltd., is running at the•rate of. 50,000 brakes and 18,000 dampers a week; representing.100 tons of components which have to be delivered to manufacturers throughout the country every 24. hours. The company rely almost entirely on their own fleet of 26 vehicles and four trailers for this work, which entails the utmost regularity and punctuality to ensure that customers' assembly lines will not be held up for supplies.
The factory itself, which made aircraft gun turrets during the war, is probably the largest light-engineering plant in Wales and employs 4,000 male and female Workers. It is highly mechanized and produces 31 different sizes of brake.
Seventy per cent of the range of brakes made for
cars is comprised of sizes 7 in. by l kin. (Standard Eight and Ford Popular), 8 in. by 11 in. (Austin), and 9 in. by 11 in. (Ford Consul and Zephyr). Respective weights of these brakes are 4 lb., 7 lb. and 11 lb.
The most popular commercial-vehicle sizes are 14 in. by 2j in.; 14 in. by 34 in., 15+ in. by 41 in. and 16 in. by 2i in., and such brakes form 60 per cent. of the output for goods and passenger models. The largest type weighs 30 lb. Brakes are also made for the Centurion Tank and these weigh 1 cwt. each.
Day and Night Working
It is impracticable for customers to hold large stocks of brakes and it is necessary for (lining to maintain a constant delivery service with prompt delivery when required. Production lines at Cwmbran for the most popular types of brake run day and night and the transport service to customers is virtually an extension of the factory conveyor system. With other types of brake, batches are made and held in stock against customers' orders. Brakes are also made, of course, for replacements: these are delivered to the Lucas transport organization in Birmingham for countrywide distribution. Many of them, and increasing numbers intended for original equipment, have bonded facings.
Replacement components are packed in cartons for u16
transport. Hydraulic brake units are carried in cylindrical canisters to protect them against dust. The canisters are washed before-being used again.
(lining aim ultimately entirely to use pallets for the carriage of brakes and dampers and at present have a float of 1,300. However, there must be four pallets in circulation per unit of load--one at Cwmbran, one with the customer and two on the road, travelling in different directions. Consequently, it is not possible for all loads to be sent on them, also, not all customers have fork-lift trucks. When pallet-loading is not possible, components are stacked loose in the vehicles, or wooden cases are *sometimes used. .•
Steel-cage pallets are employed, measuring 3 ft. 4 in. square by 3 ft. 2 in. deep: tare weight is 180 lb. After. a journey each is cleaned by a special machine. .A.'net pallet-load of fittiished products is 10-12 cwt., but a load of loose castings may be a ton.
Because of a policy of reciprocal buying, the Girling fleet, although fairly small, represents nine different makes. Nevertheless, there is some standardization, for 12 of the vehicles have Perkins P.6 engines and a stock of joints and gaskets is kept, Moreover, Lucas, C.A.V. and, of course, Girling components can be replaced readily and 'with economy. Brake shoes, particularly, may be cheaply renewed, and the need to protract their life to possibly unsafe limits does not arise.
Scammell's Average of 8.39 m.p.g.
Half the vehicles have covered over 200.000 miles each, and a quarter have travelled 100,000 miles--figures which reflect the intensity of operation and the care taken in maintenance. It is the eventual objective to have a fleet wholly of oilers. In the past the company overhauled engines. but they now find it more economic to use reconditioned units. Some of the vehicles are titled with various pieces of experimental equipment under trial by the group. Fleet numbers are those of the Lucas organization and the colour is Lucas holly green.
The biggest outfit in the fleet is a Scammell eightwheeler with a Gardner 6LW engine. It draws a trailer and an aggregate load of 19 tons can be carried. Since January, 1948, this unit has run 210,000 miles at an average fuel-consumption rate of 8.39 m.p.g. The next largest vehicle is .a Mairdslay 10-tonner, with a 5-ton trailer, that averages 10.2 m.p.g.
Vehicles in tile 7-ton class are two A.E.C. oilers and a Commer petrol lorry. One of the A.E.C.s returns
13.8 m.p.g., and the Cornmer 8.5 m.p.g. The other A.E.C. is a new delivery. There are also two Leyland Beaver 7-ton oilers with trailers. One averages 10.4 m.p.g. and the other, which started running earlier— in September, 1947-9.2 m.p.g. This vehicle has covered 224,684 miles.
In the 6-ton category are two Jensens and an E:R.F. One of the Jensens has run 204,021 miles since February, 1949, and returns 17 m.p.g. The E.R.F. averaged 15.6 m.p.g. until its engine was recently replaced. Purchased used, this vehicle has covered 191,852 miles in Girling's service. Previous mileage is unknown.
Five-tonners in the fleet comprise two Leyland petrol vehicles, averaging about 9.5 m.p.g., two Cormier oilers which return 15.6 m.p.g. and 10 Thames models, eight of which have P.6 engines. Those with V8 units average 10.3 m.p.g. and the oilers up to 17.1 m.p.g. Other units in the fleet are an Austin 3-tonner which does 15.6 m.p.g., and an Austin 25-cwt. van, used mainly for emergency deliveries.
Not only do these vehicles dispatch factory products, they are also employed to bring in substantial supplies of materials. Unladen mileage is probably less than 20 per cent. of the total. For instance, vehicles supplying Ford at Dagenham return via a works at Coventry to collect bulk quantities of pressings such as brake shoes and backplates. The round trip is 400 miles.
Vehicles work this service by rotation with departures every evening of the week except Friday and Saturday. Outfits restricted by law to 20 m.p.h.—the Scammell, Maudslay and one Beaver, all with trailers—leave at 8 p.m., and 30 m.p.h. vehicles—an A.E.C. and a Thames—at 10 p.m. It has been found possible to run the A.E.C. direct to Dagenham, but the other vehicles change drivers at the Lucas depot at Acton, where they arrive at 6 a.m. The arrival at Dagenham is at 7.30 a.m.
After unloading during the day, the vehicles leave the Ford works by 4.30 p.m. to be back at Acton by 6 p.m. The original drivers take over the lorries at 10 p.m. and arrive in Coventry at 6.30 a.m. They load with the pressings, leave at 9 p.m. and arrive back at Cwmbran by 4.30 a.m. After unloading, the vehicles are inspected during the morning before setting out again on the trip to Dagenham.
Hills Avoided
A 5-ton vehicle leaves Cwmbran at 8 p.m. to arrive at the Austin works at Longbridge at 2 a.m., and at 10 p.m. services are run by 5-7-tonners to various manufacturers in London and Birmingham. Those to Birmingham arrive by 8 a.m. and deliver brakes to Rover, Alvis, Moss Gear, Morris-Commercial, Reliant and Pashley, among others, and dampers to B.S.A. and Norton. Among the London customers are A.E.C. and Scammell. London vehicles approach Gloucester via Usk and Ross to avoid the hills on the Chepstow route. Another vehicle leaves at 10 p.m. for either Morris or M.G. in the Oxford area, arriving there at 3 a.m., and e18 then delivers the remainder of its load to Alford and Alder at Hemel Hempstead, where axles for the Standard Eight are produced.
At midnight, a bulk 10-ton load is sent to the Lucas depot at Walsall for onward dispatch to northern customers, although emergency loads mai/ be sent direct. A 5-7-tonner leaves at the same time Mr customers in and around Coventry.
Apart from special consignmehts to London, the daytime services comprise vehicles sent off at 8.30 a.m. to Longbridgc, Coventry, Birmingham and Luton_ Commer and Vauxhall are customers at the lastmentioned town and are served on Monday, Wednesday and Friday. Each day, 71 tons of brakes are sent to the Ferguson tractor plant at Coventry.
Frequent Delivery
Altogether, nearly 100 manufacturers are directly served by road from Cwmbran and it is to be noted that those in the Midlands receive two deliveries every 24 hours, and those farther distant a daily service. Thus the company's effective use of C-licence transport overcomes the disadvantage of the remote geographical position of their factory.
Besides the vehicles working on the Dagenham service, those running to Birmingham and Coventry call at Coventry for supplies and visit various Midland casting companies. In all, they bring 40 tons of material to Cwmbran every day. Collections -are also made from the Walsall depot. Some Dagenham lorries may call at the Capasco works at Barking for facings, and a few, together with the Luton vehicles, collect piping from the Bundy concern at Letchworth or rivets from the Bifurcated Rivet Co. at Aylesbury.
One 50-yd.-long bank at the Cwmbran factory serves for receipt and dispatch. It is 8 ft. wide, one end being used for unloading and the other for -loading. All vehicles are weighed on entry and exit through the factory gate, weighbridge tickets being handed to the transport manager, Mr. R. T. Rowe.
Mr. Rowe, who started his career as a conductor with a bus company in 1921 and was subsequently their traffic manager for 11 years, has looked after the transport arrangements at the Cwmbran factory since 1941. He showed me the draft of a booklet being prepared for issue ta the company's 40 drivers and mates. This stressed the importance of efficient transport vis-a-vis modern motor production methods, and was worded to impress drivers with the importance of their work.
Mr. Rowe is a believer in the "one driver, one vefficle " principle, even to the extent of keeping a lorry off the road if a .driver is not available. The bonus scheme is based on this precept and was evolved by the company's time-study department. Drivers are paid on a half-day basis, instead of hourly, as they work for long periods without Supervision: Payments in addition to normal wages are awarded on mileage, weights carried and the number of calls.
The aim of the scheme is to reward diligence and maintain the intensity of operation. The driver of a 5-tonner, for instance, may cover 500 miles in a week, carry 20 tons and make 20 calls. The mileage bonus is 7d. per 10 miles, that for weight 4d. per ton, and the sum per call 3d. The total bonus is therefore £2 Os. 10d.
If he is confident about the man's behaviour and driving ability, Mr. Rowe increases this bonus by 20 per cent. Drivers of vehicles drawing trailers receive art extra 2s. a day. The nightly subsistence allowance is 15s. 9d. The men have recently been entered for the National Safe Driving Competition.
The importance of regular maintenance is fully appreciated. Drivers report on the state of their vehicles daily and urgent repair jobs are tackled as quicklyas possible. Lights, brakes and steering are checked before every journey and each vehicle is thoroughly examined every third week. Major inspections and overhaul attentions are done according to makers' instructions.
Three fitters and two mates are employed in the garage, where the equipment includes two pits, overhead lifting tackle, Tecalemit greasing plant. a Black and Decker valve grinder and a Churchill linisher. Mains water pressure is sufficiently high to obviate the need for a mechanized washing plant. Much of the machine work involved in vehicle servicing can conveniently be done in the factory maintenance workshop.
Dunlop Tyres Standard
Wakefield oil is used, crankcase lubricant being changed at 1,500 miles per gallon contained. Dunlop , tyres are used for replacement: standardization on one make avoids difficulties that sometimes arise when " twinning" double rear-wheel covers of different makes and nominally the same size, but in reality of varying dimension from bead to head.
No figures for tyre life can usefully be compiled. Many customers' premises are unfortunately strewn with rubbish. including sharp metal objects like nuts and bolts, and most tyres never attain their expected life because of cuts and concussion fractures.
Girling build the bodywork Of their vehicles to their own design. Platforms of the lorries receive hard treatment from the heavy pallets, which stand on four feet. Particular praise is given by Mr. Rowe to the good
service given by the floors of the Jensens, which are of corrugated light alloy with interlaid wooden strips.
The company's design provides for 2-in, square timber runners along the chassis members, with cross
bearers at intervals of 2 ft. 6 in. Previously the cross-bearers were spaced 3 ft. apart, but after a period of use it was found that the floor tended to sag between them under the heavy weight of the loads. Body sides are strongly constructed to resist distortion and a gap of about 12 in. is left between the headboard and the rear of the cab so that eventual bulging of the headboard will not .damage the cab.
Resisting Loading Impacts
A length of steel sheet about 8 in. wide is attached to substantial timbers along the sides of the body to resist the impacts received during loading by fork-lift trucks. Main members of the body are . of, Yang bastard mahogany; platform timber is deal. ' • Besides a Thames tipper used for the disposal of factory waste, a Morris-Commercial breakdown tender is kept at Cwmbran. Other tenders are stationed at London and Birmingham. Should a lorry striver have a breakdown, he may make a reverse-charge telephone call to the nearest of these bases. A tender is disPateried With a relief lorry for the transfer of the ioad: Comprehensive cost ...figutzs.....are kept and monthly schedules are drawn up showing data for the period under review and 12 months earlier. The company's financial year starts on August 1 and aggregate figures for the period from that date to the present are given. In addition, a six-monthly schedule is compiled.
Standing charges comprise overheads, depreciation. interest on capital, licences and insurance, and under running costs are listed drivers' wages and expenses. tyres, fuel, lubricants and maintenance; Total standing charges are approximately half the sum of running costs. The largest item of expense is wages, with fuel a close second, then maintenance.
Other statistics compiled include mileage, tonnage. ton-mileage, hours worked, average m.p.h., and cost per mile, per ton, per ton-mile and per hour. Figures relating to November last year, when 32 vehicles and five trailers were being operated, reveal that 71,419 miles were covered and 2,359 tons hauled. Hours worked totalled 4.915.
Reference has been made to the remoteness of the Girling factory from the main motor-manufacturing areas of the country. Light engineering is being developed in South Wales to balance the economic potential of the older heavy industries. Also, there is a pool of female labour from which assembly workers can be drawn. The flexibility of road transport helps to make this development possible by obviating ruptures in interdependent factory production systems.