A Miniature Mobile Film Unit for Haiti
26th February 1954
Page 138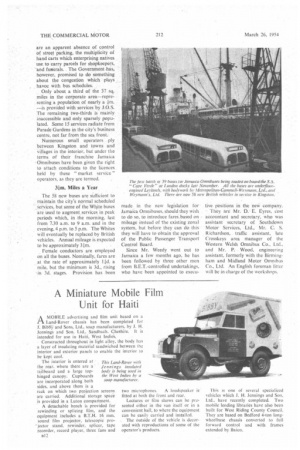 Page 138, 26th February 1954 —
A Miniature Mobile Film Unit for Haiti
Close
AMOBILE advertising and film unit based on a Land-Rover chassis has been completed for J. Bibby and Sons, Ltd., soap manufacturers, by J. H. Jennings and Son. Ltd.. Sandbach. Cheshire. It is intended for use in Haiti, West Indies.
Constructed throughout in light alloy, the body has a layer of insulating material sandwiched between the interior and exterior panels to enable the interior to be kept cool.
The interior is entered at the rear. where there are a tailboard and a large tophinged canopy. Cupboards are incorporated along both sides. and above them is a rack on which two projection screens are carried. Additional storage space is provided in a Luton compartment.
A detachable bench is provided for rewinding or splicing film, and the equipment includes a B.T.H. 16 mm. sound film projector, telescopic projector stand. rewinder, splicer, tape recorder, record player, three fans and
This Land-Rover with Jennings insulated body is being used in the West Indies by a soap manufacturer.
two microphones. A loudspeaker is.
fitted at both the front and rear.
Lectures or film shows can be presented either in the van itself or in a convenient hall, to where the equipment can be easily carried and installed.
The outside of the vehicle is decorated with reproductions of some of the operator's products.
This is one of several specialized vehicles which J. H. Jennings and Son. Ltd., have recently completed. Two mobile lending libraries have also been built for West Riding County Council. They are based on Bedford 4-ton longwheelbase chassis converted to full forward control and with frames extended by Baico,