Passing Comments
26th February 1954
Page 126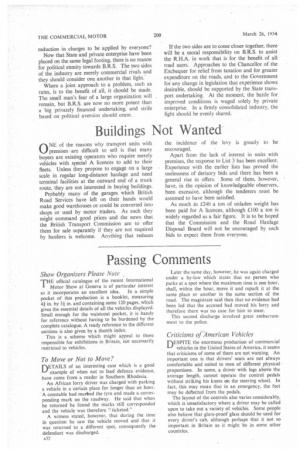 Page 127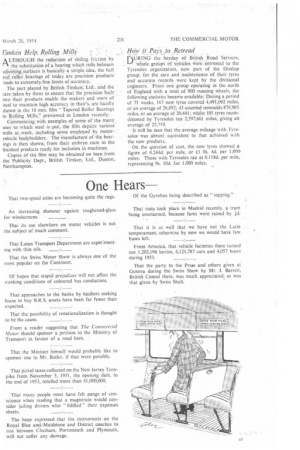 Page 126, 26th February 1954 —
Passing Comments
Close
Show Organizers Please Note
THE official catalogue of the recent International Motor Show at Geneva is of particular interest
as it incorporates an excellent idea. In a simple pocket of this production is a booklet, measuring 4f in. by 3f in. and containing some 120 pages, which gives the essential details of all the vehicles displayed. Small enough for the waistcoat pocket, it is handy for reference without having to be burdened by the complete catalogue. A ready reference to the different sections is also given by a thumb index.
This is a scheme which might appeal to those responsible for exhibitions in Britain, not necessarily restricted to vehicles.
To Move or Not to Move?
DETAILS of an interesting case which is a good example of when not to lead defence evidence, have come from a reader in Southern Rhodesia.
An African lorry driver was charged with parking a vehicle in a certain place for longer than an hour. A constable had marked the tyre and made a corresponding mark on the roadway. He said that when he returned he found the marks still corresponded and the vehicle was therefore `!. ticketed."
A witness stated, however, that during the time in question he saw the vehicle moved and that it was returned to a different spot, consequently the defendant was discharged. Later the same day, however, he was again charged under a by-law which states that no person who parks at a spot where the maximum time is one hour, shall, within the hour, move it and repark it at the same place or another in the same section of the road. The magistrate said then that no evidence had been led that the accused had moved his lorry and therefore there was no case for him to meet.
This second discharge involved great embarrassment to the police.
Criticisms of-American Vehicles DESPITE the enormous production of commercial
vehicles in the United States of America, it seems that criticisms of some of them are not wanting. An important one is that drivers' seats are not always comfortable and suited to men of different physical proportions. In some, a driver with legs above the average length, cannot operate the control pedals without striking his knees on the steering wheel. In fact, this may mean that in an emergency, the feet may be deflected from the pedals.
The layout of the controls also varies considerably, which is unsatisfactory where a driver may be called upon to take out a variety of vehicles. Some people also believe that glare-proof glass should be used for every driver's cab, although perhaps that it not so important in Britain as it might be in some other countries.
rimken Help. Palling Mills
A 111-1,01JGtl. the reduction of sliding friction by the substitution of a bearing which rolLS between tdjoining_"surficei is basically a simple idea, the ball .bearings of today_ are precision products
:nttcle.to extretnely,fine limits of ,accuracy. •
The part played by British-Timken. Ltd:, and the are taken by them to ensure that the precision built.
into their products enable the makers and users of steel to maintain high accuracy in their's, are lucidly shown in the 16 mm. film "Tapered Roller Bearings in: Rolling Mills," previewed in London recently.
Commencing,with examples of some of the Many..
uses to :which steel is..put,: the filth depicts various Mills at work,. including some employed by motorvehicle bodybuilders, • The Manufacture of the bearings is then shown, from their embryo state to the finished products ready for inclusion in machines.
Copies of the film may be obtained on loan from the Publicity Dept., British Timken, Ltd., Duston, Northampton.
How' it Paisto Retread URING the .heyday of British Road Se,rvices, -whole groUps. of vehicles viiere e:ntritsted to the Tyresoles organization, now part of the Dunlop group, for the care and maintenance of their tyres and accurate records were kept. by the divisional engineers. From one group operating in the north of England with a total of 900 running wheels, the follOwing statistics became available: During a period of 71 weeks, 167 new tyres covered 4,491,092 miles, or an average of 26,892; 43 assorted remoulds 878,985 miles, or an average of 20,441; whilst 101 tyres reconditioned by Tyresolds tan 2,597,661 miles, giving in average of 25,719.
It will be Seen' that the average mileage with Tyresoles was almost equivalent to that achieved with the new products.
On the question of cost, the new tyres showed a figure of 0.244d. per mile, or Li Os. 4d. per 1,000, miles. Those with Tyresoles ran at 0.118d. per mile, representing 9s. 10d. for 1,000 miles.