Clear the Air
26th February 1954
Page 125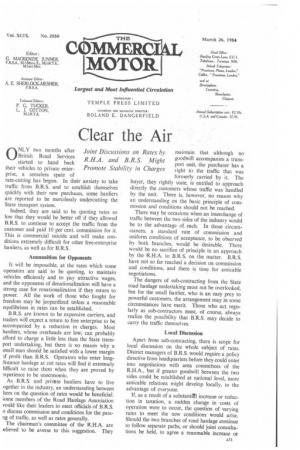 Page 126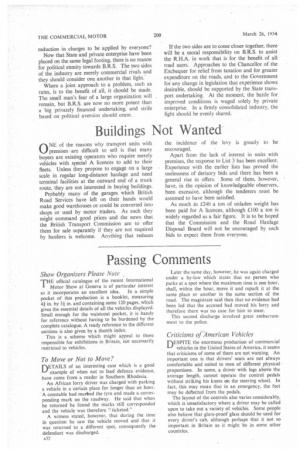 Page 125, 26th February 1954 —
Clear the Air
Close
Joint Discussions on Rates by R.H.A. and B.R.S. Might Promote Stability in Charges
ONLY two months after British Road Services started to hand back• their vehicles to private enterprise, a senseless spate of rate-cutting has begun. In their anxiety to take traffic from B.R.S. and to establish themselves quickly with their new purchases, some hauliers are reported to be mercilessly undercutting the State transport system.
Indeed, they are said to be quoting rates so low that they would be better off if they allowed B.R.S. to continue to accept the traffic from the customer and paid 10 per cent. commission for it. This is commercial suicide and will make conditions extremely difficult for other free-enterprise hauliers, as well as for B.R.S.
Ammunition for Opponents It will be impossible, at the rates which some operators are said to be quoting, to maintain vehicles efficiently and to pay attractive wages, and the opponents of denationalization will have a strong case for renationalization if they return to power. All the work of those who fought for freedom may be jeopardized unless a reasonable equilibrium in rates can be established.
B.R.S. are known to be expensive carriers, and traders will expect a return to free enterprise to be accompanied by a reduction in charges. Most hauliers, whose overheads are low, can probably afford to charge a little less than the State transport undertaking, but there is no reason why a ;mall man should be satisfied with a lower margin A profit than B.R.S. Operators who enter longlistance haulage at cut rates will find it extremely lifficult to raise them when they are proved by xperience to be uneconomic.
As ,B.R.S. and private hauliers have to live ogether in the industry, an understanding between hem on the question of rates would be beneficial. ;orne members of the Road Haulage Association you'd like their leaders to meet officials of B.R.S. o discuss commission and conditions for the passrig of traffic, as well as rates generally.
The chairman's committee of the R.H.A. are believed to be averse to this suggestion. They maintain that 'although no goodwill accompanies a transport unit, the purchaser has a right to the traffic that was formerly carried by it, The buyer, they rightly state, is entitled to approach directly the customers whose traffic was handled by the unit. There is, however, no reason why an understanding on the basic principle of commission and conditions should not be reached.
There may be occasions when an interchange of traffic between the two sides of the industry would be to the advantage of. each. In those circumstances, a standard rate of commission and uniform conditions of acceptance, to be observed by both branches, would be desirable. There would be no sacrifice of principle in an approach by the R.H.A. to B.R.S. on the matter. B.R.S. have not so far reached a decision on commission and conditions, and there is• time for amicable negotiations.
The dangers of sub-contracting from the State road haulage undertaking must not be overlooked, but for the small haulier, who is an easy prey to powerful customers, the arrangement may in some circumstances have merit. Those who act regularly as sub-contractors must, of course, always realize the possibility that B.R.S. may decide to carry the traffic themselves.
Local Discussion Apart from sub-contracting, there is scope for local discussion on the whole subject of rates. District managers of B.R.S. would require a policy directive from headquarters before they could enter into negotiations with area committees of the R.H.A., but if greater goodwill between the two sides could be established at national level, more amicable relations might develop locally, to the advantage of everyone.
If, as a result of a substantiti increase or reduction in taxation, a sudden change in costs of operation were to occur, the question of varying rates to meet the new conditions would arise. Should the two branches of road haulage continue to follow separate paths, or should joint consultations be held, to agree a reasonable increase or
reduction in charges to be applied by everyone?
Now that State and private enterprise have been placed on the same legal footing, there is no reason for political enmity towards B.R.S. The two sides of the industry are merely commercial rivals and they should consider one another in that light..
Where a joint approach to a problem, such as rates, is to the benefit of all, it should be made. The small man's fear of a large organization will remain, but B.R.S. are now no more potent than a big privately financed undertaking. and strife based on political aversion should cease. If the two sides are to come closer together, there will be a moral responsibility on B.R.S. to assist the R.H.A. in work that is for the benefit of all road users. Approaches to the Chancellor of the Exchequer for relief from taxation and for greater expenditure on the roads, and to the Government for any change in legislation that experience shows desirable, should be supported by the State transport undertaking. At the moment, the battle for improved conditions is waged solely by private enterprise. In a firmly consolidated industry, the fight should be evenly shared.