Will This Report Secure Unity ?—Continued from page 73 purchased, owned and maintained by the Federation and
26th February 1943
Page 32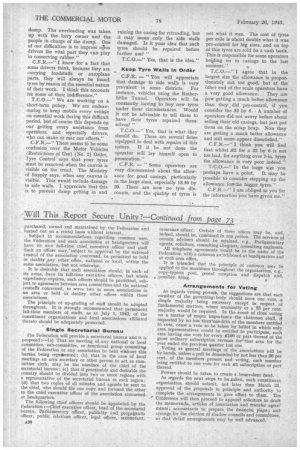 Page 32, 26th February 1943 —
Will This Report Secure Unity ?—Continued from page 73 purchased, owned and maintained by the Federation and
Close
loaned out on a rental basis without interest, ,
Subject to recommendations regardingcommon user, the Federation and each association at headquarters will have its own full-time chief executive officer and staff. Such an officer may,4subject to approval by the national. council of the association concerned, be permitted to hold in duality Any other office, national or local, Within the same association, but not otherwise.
It is desirable that each association should, in each of its areas, have its full-time executive officers, but where expediency requires, such officers should be permitted, subject to agreement between area conumittees and the national c.ounells concerned, to serve two or more associations in an area or hold in duality other offices within those associations.
The principle of up-grading of staff shourd be adopted throughout. It is strongly recommended that permanent full-time members of staffs, as at July 1, 1942, of the constituent organizations and local associations affiliated thereto should be adequately protected.
Single Secretarial Bureau
The Federation will provide a secretarial bureau and it is proposed :—(a) That no meeting of any national or local committee, sub-committee, or functional group committee of the Federation or any association be held without this bureau being repretsented; (b) that in the case of local meetings an area secretary or other person to act as committee clerk, may be the nominee of the chief of the secretarial bureau ; (c) that if practicable and desirable the country should be divided into two or more regions with a representative of the secretarial bureau In each region; (d) that two copies of all minutes and agenda be sent to the chief, who should file one copy and forward the other to the chief executive officer of the association concerned at headquarters.
The following chief officers should be appointed by the Federation :—Chief executive officer, head of the secretarial bureau, Parliamentary officer, publicity and propaganda officer, public relations officer, legal officer, accountant,
a30 insurance officer. Certain of theso offices may be, and indeed, should be, combined in one person. The services of certain advisers should be retained,. e.g" Parliamentary agents, solicitors, consulting cheTists, consulting engineers.
All telephone agreements would be in the name of the Federation, with a common sw:tchboard at headquarters and at each area office.
It is intended that the principle of common user be applied to the maximum throughout the organization, e.g., copy-typists pool, postal reception and dispatch and, possibly, filing.
Arrangements for Voting
As regards voting powers, the suggestions are that each member of the governing, body should have one vote, a simple majority being necessary except in respect of fundamental matters, where unanimity or a 75 per cent. majority would be required. In the event of dose voting on a matter of major importance the chairman shall, if requested by no less than-brie-fifth of the members entitled to vote, cause a vote to be taken by ballot in which only area representatives would be entitled to participate, each area having one vote for every A100 or part thereof of the gross ordinary subscription revenue for'that area for the year ended the previous quarter but one.
Voting at general meetings of the associations will be by hands, unless a poll be demanded by not less than 20 per cent,. of the members present and voting, each member being entitled to one vote for each £1. subscription or part thereof.
PoWers should be ta.ken to create a benevolent fond.
As regards the next steps to be taken, each constituent organization should submit, not later than March 31, approval of the proposals in principle and authority to complete the arrangements to give effect to them. The Conference will then proceed to appoint solicitors to draft the memoranda, articles a association and transfer agree: meats; accountants to prepare the financial plans; and arrange for the election of shadow councils and committees, so that detail arrangements may be well advanced: