Make sure you don't borrow your own mane
26th December 1981
Page 8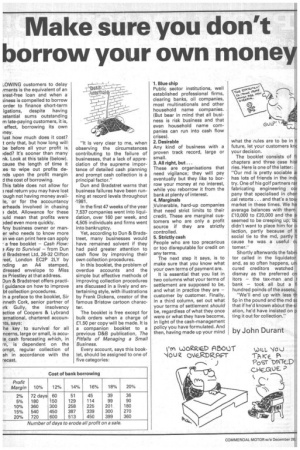 Page 8, 26th December 1981 —
Make sure you don't borrow your own mane
Close
_OWING customers to delay tments is the equivalent of an arest-free loan and when a ainess is compelled to borrow order to finance short-term igations, despite having astantial sums outstanding m late-paying customers, it is, effect, borrowing its own iney.
lust how much does it cost? t only that, but how long will be before all your profit ided? It's sooner than many nk. Look at this table (below). cause the length of time it BS to wipe out profits dends upon the profit margin d the cost of borrowing.
rhis table does not allow for a real return you may have lost 'lough not having money availle, or for the accountancy erheads involved in chasing a debt. Allowance for these auld mean that profits were )ded even more quickly.
kny business owner or maner who needs to know more an we can print here can apply a free booklet — Cash Flow:
Key to Survival — from Dun d Bradstreet Ltd, 26-32 Clifton -eet, London EC2P 2LY by nding an A4 stamped, dressed envelope to Miss 3X Priestley at that address. Dun & Bradstreet offers practiI guidance on how to improve bt collection procedures.
In a preface to the booklet, Sir .nneth Cork, senior partner of irk Gully, the insolvency actice of Coopers & Lybrand :ernational, chartered accoun-its, says: he key to survival for all ncerns, large or small, is accute. cash forecasting which, in m, is dependent on the ompt, regular collection of sh in accordance with the recast.
"It is very clear to me, when observing the circumstances contributing to the failure of businesses, that a lack of appreciation of the supreme importance of detailed cash planning and prompt cash collection is a principal factor."
Dun and Bradstret warns that business failures have been running at record levels throughout .1981.
In the first 47 weeks of the year 7,537 companies went into liquidation, over 160 per week, and 4,505 individuals and firms went into bankruptcy.
Yet, according to Dun & Bradstreet, many businesses would have remained solvent if they had paid greater attention to cash flow by improving their own collection procedures.
In this booklet, the problem of overdue accounts and the simple but effective methods of improving collection procedures are discussed in a lively and entertaining style, with illustrations by Frank Dickens, creator of the famous Bristow cartoon character.
The booklet is free except for bulk orders when a charge of E1.50 per copy will be made. It is a companion booklet to a previous D&B publication, The Pitfalls of Managing a Small Business.
Every account, says this booklet, should be assigned to one of five categories: 1. Blue chip Public sector institutions, well established professional firms, clearing banks, oil companies, most multinationals and other household name companies. (But bear in mind that all business is risk business and that even household name companies can run into cash flow crises).
2. Desirable Any kind of business with a proven track record, large or small.
3. All right, but ...
These are organisations that need vigilance; they will pay eventually but they like to borrow your money at no interest, while you reborrow it from the bank at plenty of interest.
4. Marginals Vulnerable, hard-up companies that need strict limits to their credit. These are marginal customers who are only a profit source if they are strictly controlled.
5. Strictly cash People who are too precarious or too disreputable for credit on any terms.
The next step it says, is to make sure that you know what your own terms of payment are.
It is essential that you list in two columns what your terms of settlement are supposed to be, and what in practice they are — customer by customer. Finally, in a third column, set out what your terms of settlement should be, regardless of what they once were or what they have become, in light of the cash-management policy you have formulated. And then, having made up your mind what the rules are to be in t future, let your customers knc your decision.
The booklet consists of fi chapters and three case hist ries. Here is one of the latter: "Our md is pretty sociable al has lots of friends in the inch. try. One of his golf partners rar fabricating engineering col pany that specialised in chen ,cal retorts ... and that's a toui market in these times. We ha average balances with them £10,000 to £20,000 and the a, seemed to be creeping up; bu didn't want to place him for ci lection, partly because of t social tie to the md, partly b cause he was a useful tome r."
Shortly afterwards the fa brit tor called in the liquidator and, as so often happens, un. cured creditors watched dismay as the preferred cr( itors — the tax-man and 1 bank — took all but a fl hundred poinds of the assets.
"We'll end up with less th 5p in the pound and the md that if he'd known about the si ation, he'd have insisted on p ting it out for collection."
by John Durant