(es, true gentlemen )f the road ...
26th December 1981
Page 7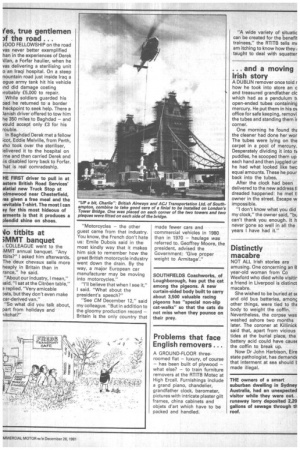 Page 7, 26th December 1981 —
(es, true gentlemen )f the road ...
Close
300D FELLOWSHIP on the road vas never better exemplified han in the experiences of Derek kllan, a Forfar haulier, when he vas delivering a sterilising unit o an Iraqi hospital. On a steep nountain road just inside Iraq a ogue army tank hit his vehicle Ind did damage costing probably £5,000 to repair. While soldiers guarded his Dad he returned to a border heckpoint to seek help. There a )anish driver offered to tow him he 350 miles to Baghdad — and vould accept only £3 for his rouble.
In Baghdad Derek met a fellow ;cot, Eddie Melville, from Perth, vho took over the steriliser, lelivered it to the hospital on ime and then carried Derek and is disabled lorry back to Forfar. 'hat is real comradeship.