An opera for road transport
26th December 1981
Page 6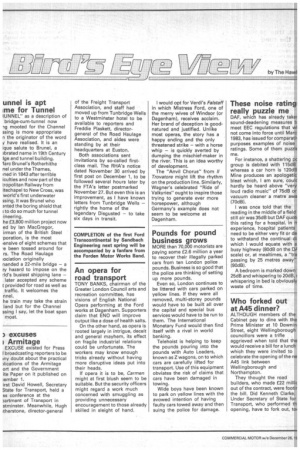 Page 6, 26th December 1981 —
An opera for road transport
Close
TONY BANKS, chairman of the Greater London Council arts and recreation committee, has visions of English National Opera performing at the Ford works at Dagenham. Supporters claim that ENO will improve output like a dose of health salts.
On the other hand, as opera is rooted largely in intrigue, deceit and general mayhem, its effect on fragile industrial relations could be unfortunate. The workers may know enough tricks already without having more disruptive ideas put into their heads.
If opera it is to be, Carmen might at first blush seem to be suitable. But the security officers might regard a work much concerned with smuggling as providing unnecessary encouragement to those already skilled in sleight of hand. I would opt for Verdi's Falstaff in which Mistress Ford, one of the merry wives of Windsor (or Dagenham), receives acclaim. Her brand of deception is goodnatured and justified. Unlike most operas, the story has a happy ending and the only threatened strike — with a horse whip — is quickly averted by dumping the mischief-maker in the river. This is an idea worthy of development.
The "Anvil Chorus" from II Trovatore might lift the rhythm on the production line. Similarly, Wagner's celebrated "Ride of Valkyries" ought to inspire those trying to generate ever more horsepower, although Germany's example does not seem to be welcome at Dagenham.