) excuses Armitage
26th December 1981
Page 6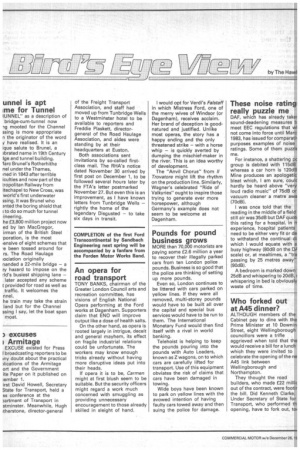 Page 6, 26th December 1981 —
) excuses Armitage
Close
EXCUSE existed for Press I broadcasting reporters to be iny doubt about the practical )lications of the Armitage ort and the Government ite Paper on it published on :ember 1.
irst David Howell, Secretary State for Transport, held a ss conference at the partment of Transport in stminster. Meanwhile, Hugh therstone, director-general of the Freight Transport Association, and staff had moved up from Tunbridge Wells to a Westminster hotel to be available to reporters and Freddie Plaskett, directorgeneral of the Road Haulage Association, and aides were standing by at their headquarters at Euston.
Both associations sent invitations by so-called firstclass mail. The RHA's notice dated November 30 arrived by first post on December 1, to be followed several hours later by the FTA's letter postmarked November 27. But even this is an improvement, as I have known letters from Tunbridge Wells — rightly the home of the legendary Disgusted — to take six days in transit.