Lord's GLC ruling
26th December 1981
Page 5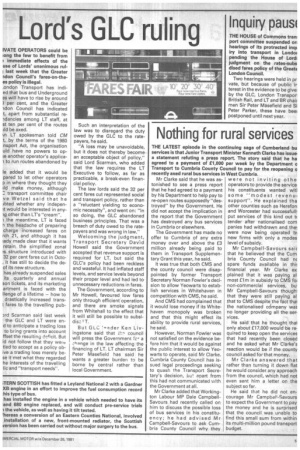 Page 5, 26th December 1981 —
Lord's GLC ruling
Close
IVATE OPERATORS could be long the few to benefit from immediate effects of the use of Lords' unanimous mi1 last week that the Greater icion Council's fares-on-thees policy is illegal.
.ondon Transport has indied that bus and Underground as will have to rise by around ) per cent, and the Greater idon Council has indicated t, apart from substantial retIclancies among LT staff, at st ten per cent of the routes rld be axed.
kri LT spokesman told CM t, by the terms of the 1980 nsport Act, the organisation uld have no powers to op;e another operator's applicar to run routes abandoned by le added that it would be pared to let other operators p in where they thought they iId make money, although transport committee chair ve Wetzel said that he ilated whether any indepenit would be interested in anyig other than LT's "cream".
the meantime, LT is faced h the headache of preparing charge increased fares on rch 21, and although it has tady made clear that it wants retain the simplified zonal is structure introduced with 32 per cent fares cut in Octo, it has still to decide the deof its new structure.
has already suspended sales its quarterly and annual son tickets, and its marketing artment is faced with the !lenge of a lifetime — how to drastically increased transfares to the travelling pub )rd Scarman said last week the GLC and LT were end to anticipate a trading loss to br!rig grants into account ffset the resulting d.cficit. But Id not follow that they we tled to accept as a policy obive a trading loss merely bese it met what they regarded he interests of the travelling lic and "transport needs". Such an interpretation of the law was to disregard the duty owed by the GLC to the ratepayers, he said.
"A loss may be unavoidable, but it does not thereby become an acceptable object of policy," said Lord Scarman, who added that the law requires the LT Executive to follow, as far as practicable, a break-even financial policy.
The law lords said the 32 per cent fares cut represented social and transport policy, rather than a "reluctant yielding to economic necessity", and went on: "In so doing, the GLC abandoned business principles. That was a breach of duty owed to the ratepayers and was wrong in law."
Welcoming the judgment, Transport Secretary David Howell said the Government accepted that revenue support is required for LT, but said the GLC's policy had been reckless and wasteful. It had inflated staff levels, and service levels beyond their proper level and had led to unnecessary reductions in fares.
The Government, according to Mr Howell, favoured low fares only through efficient operation, and there are smoke signals from Whitehall to the effect that it will still be possible to subsidisc T.
But GLC !oader Ken Liv
ingstone said that council will press the Government fc, a change in the law affecting the financing of LT. LT chairman Sir Peter Masefield has said he wants a greater burden to be borne by central rather than local Government.