Scania switch to meet type approval
26th December 1981
Page 4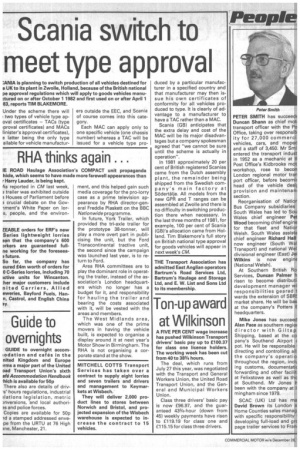 Page 4, 26th December 1981 —
Scania switch to meet type approval
Close
;ANIA is planning to switch production of all vehicles destined for e UK to its plant in Zwolle, Holland, because of the British national pa approval regulations which will apply to goods vehicles manuctured on or after October 1 1982 and first used on or after April 1 83, reports TIM BLAKEMORE.
Under the scheme there will two types of vehicle type apoval certificates — TACs (type .proval certificates) and MACs linister's approval certificates), a latter being the only type ailable for vehicle manufactur ers outside the EEC, and Scania of course comes into this category.
Each MAC can apply only to one specific vehicle (one chassis number) whereas a TAC will be issued for a vehicle type pro duced by a particular manufacturer in a specified country and that manufacturer may then issue his own certificates of conformity for all vehicles produced to type. It is clearly of advantage to a manufacturer to have a TAC rather than a MAC.
Scania (GB) anticipates that the extra delay and cost of the MAC will be its major disadvantages but a company spokesman agreed that "we cannot be sure until the scheme is actually in operation".
In 1981 approximately 20 per cent of British registered Scanias came from the Dutch assembly plant, the remainder being shipped from the Swedish company's main factory at SadertSlje. All models from the new GPR and T ranges can be assembled at Zwolle and there is no difficulty in switching production there when necessary. In the last three months of 1981, for example, 100 per cent of Scania (GB)'s allocation came from Holland. Tim Blakemore's full story on British national type approval for goods vehicles will appear in next week's CM.