Slow but not sure )rogress on licences
26th December 1981
Page 3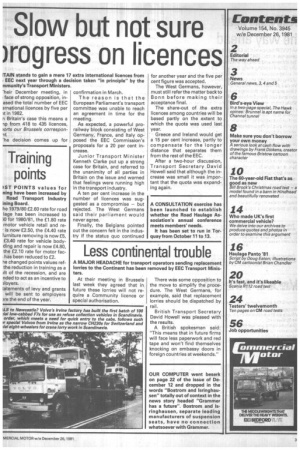 Page 3, 26th December 1981 —
Slow but not sure )rogress on licences
Close
ITAIN stands to gain a mere 17 extra international licences from EEC next year through a decision taken "in principle" by the mmunity's Transport Ministers.
-heir December meeting, in face of strong opposition, inased the total number of EEC arnational licences by five per rtin 1982.
n Britain's case this means a ip from 418 to 435 licences, ports our Brussels corresponlt.
The decision comes up for confirmation in March.
The reason is that the European Parliament's transport committee was unable to reach an agreement in time for the meeting.
As expected, a powerful prorailway block consisting of West Germany, France, and Italy opposed the EEC Commission's proposals for a 20 per cent increase.
Junior Transport Minister Kenneth Clarke put up a strong case for Britain, and referred to the unanimity of all parties in Britain on the issue and warned that feelings were running high in the transport industry.
A ten per cent increase in the number of licences was suggested as a compromise — but rejected. The West Germans said their parliament would never agree.
Finally, the Belgians pointed out the concern felt in the industry if the status quo continued for another year and the five per cent figure was accepted.
The West Germans, however, must still refer the matter back to Bonn before making their acceptance final.
The share-out of the extra licences among countries will be based partly on the extent to which the quota was used last year.
Greece and Ireland would get a 15 per cent increase, partly to compensate for the longer distance that separates them from the rest of the EEC.
After a two-hour discussion, Transport Secretary David Howell said that although the increase was small it was important that the quota was expanding again.