Who made UK's first commercial vehicle?
26th December 1981
Page 14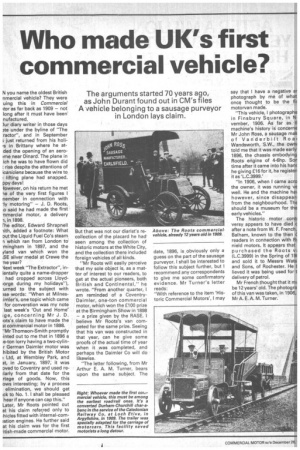 Page 14, 26th December 1981 —
Who made UK's first commercial vehicle?
Close
The arguments started 70 years ago, as John Durant found out in CM's files A vehide belonging to a sausage purveyor in London lays claim.
N you name the oldest British nmercial vehicle? They were uing this in Commercial tor as far back as 1909 — not long after it must have been nufactured.
h.rr diary writer in those days )te under the byline of "The ractor", and in September ; just returned from his holirs in Brittany where he atded the opening of an aeroome near Dinard. The plane in ich he was to have flown did : rise despite the attentions of icaniciens because the wire to lifting plane had snapped. ppy days!
lowever, on his return he met le of the very first figures I nember in connection with ly motoring" — J. D. Roots, o said he had made the first -nmercial motor, a delivery 1, in 1898.
l'he editor, Edward Shrapnell lith, added a footnote: What out the Liquid Fuel Co's steam.
which ran from London to mingham in 1897, and the yland van which won the SE silver medal at Crewe the Tie year?
gext week "The Extractor", inlentally quite a name-dropper had cropped across Lloyd:orge during my holidays"), urned to the subject with )se words: "When at Milnesimler's, one topic which came for converstion was my note last week's 'Out and Home' ige, concerning Mr J. D. rots's claim to have made the -it commercial motor in 1898. ''Mr Thomson-Smith promptly inted out to me that in 1896 a e-ton lorry having a two-cylinr German Daimler motor was hibited by the British Motor Ltd, at Wembley Park, and at, in January, 1897, it was Dyed to Coventry and used re:lady from that date for the rtage of goods. Now, this ows interesting; by a process elimination, we should get Ick to No. 1. I shall be pleased hear if anyone can cap this." Later, Mr Roots pointed out at his claim referred only to hides fitted with internal-cornistion engines. He further said at his claim was for the first itish-made commercial motor.
But that was not our diarist's recollection of the placard he had seen among the collection of hisi:oric motors at the White City, and the collection there included foneign vehicles of all kinds.
"Mr Roots will easily perceive that my sole object is, as a matter of interest to our readers, to get at the actual pioneers, both British and Continental," he 1Nrote. "From another quarter, am reminded of a CoventryDaimler, one-ton commercial motor, which won the £100 prize at the Birmingham Show in 1898 — a prize given by the RASE. I believe Mr Roots's van competed for the same prize. Seeing that his van was constructed in that year, can he give some proofs of the actual time of year when it was completed, and perhaps the Daimler Co will do likewise.
"The letter following, from Mr Arthur E. A. M. Turner, bears upon the same subject. The
date, 1896, is .obviously only a guess on the part of the sausage purveyor. I shall be interested to follow this subject further, but I recommend any correspondents to give me some confirmatory evidence. Mr Turner's letter reads:
"With reference to the item 'Historic Commercial Motors', I may say that I have a negative ar photograph by me of what once thought to be the fir motorvan made.
"This vehicle, I photographe in Finsbury Square, in r'L vember, 1906. As far as ti machine's history is concerne Mr John Ross, a sausage mak of Vanderbilt Roar Wandsworth, S.W., the ownr told me that it was made early 1896, the chassis embodying Roots engine of 4-6hp. Sor time after it came into his ham he giving £16 for it, he register: it as 'L.C.3999.'
"In 1906, when I came acro the owner, it was running VE well. He and the machine ha\ however, since disappear: from the neighbourhood. The should be a museum for the early vehicles."
The historic motor conti versy appears to have died c after a note from W. F. French, Balham, known to the then ( readers in connection with R1 nield motors. It appears that purchased the Roots vi (L.C.3999) in the Spring of 19( and sold it to Messrs Wats and Sons, of Rochester. He t lieved it was being used for t delivery of petrol.
Mr French thought that it mt be 12 years' old. The photogra of this van was taken, in 1906, Mr A. E. A. M. Turner.