Bus cuts likely following grants news
26th December 1975
Page 4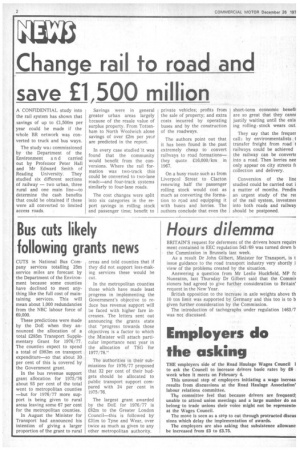 Page 4, 26th December 1975 —
Bus cuts likely following grants news
Close
CUTS in National Bus Company services totalling 25m service miles are forecast by the Department of the Environment because some counties have declined to meet anything like the full cost of maintaining services. This will mean about 1,000 redundancies from the NBC labour force of 69,000.
These predictions were 'bade by the DoE when they announced the allocation of a total £285m Transport Supplementary Grant for 1976/77. The counties expect to spend a total of £983m on transport expenditure—so that about 30 per cent of this is covered by the Government grant.
In the bus revenue support grant allocation for 1975/76 about 93 per cent of the total went to metropolitan counties —but for 1976/77 more support is being given to rural areas leaving some 67 per cent for the metropolitan counties.
In August the Minister for Transport had announced his intention of giving a larger proportion of the grant to rural areas and told counties that if they did not support loss-making services these would be cut.
In the metropolitan counties those which have made least progress in implementing the Government's objective to re-duce bus revenue support will be faced with higher fare increases. The letters sent out announcing the grants state that "progress towards those objectives is a factor to which the Minister will attach particular importance next year in the allocation of TSG for 1977/78."
The authorities in their submissions for 1976/77 proposed that 32 per cent of their budgets should be allocated to public transport support compared with 24 per • cent in 1975/76.
The largest grant awarded by the DoE for 1976/77 is E82m to the Greater London Council—this is followed by £31m to Tyne and Wear, over twice as much as given to any other metropolitan authority.