Testing the Saurer Tipping Gear.
26th December 1922
Page 25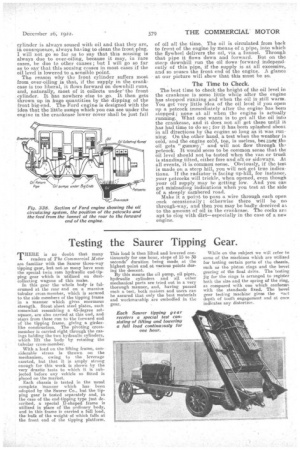 Page 25, 26th December 1922 —
Testing the Saurer Tipping Gear.
Close
THERE is no doubt, that many readers of The Commercial Motor are familiar with the Saurer three-way tipping gear, but not so many have seen the special twin ram hydraulic end-tipping gear which is utilized on dustcollecting wagons of this make. In this gear the whole body is fulcrumed at the rear end on a massive tubular cross member, which is secured to the side members of the tipping frame in a manner which gives enormous strength. Stout sheet steel plates, each somewhat resembling a 45-degree setsquare, are also carried at this end, andstays from these run to the forward end of the tipping frame, giving a girderlike construction. The pivoting crossmember is carried right through the casings holding the two hydraulic cylinders, which lift the body by rotating the tubular cross-member.
With a load on the lifting frame, considerable stress is thrown on the mechanism, owing to the leverage exerted, but that it is amply strong enough for this work is shown by the very drastic tests to which it is subjected before any vehicle so fitted is placed on the market.
Each chassis is tested in the usual complete Manner which has been adopted by the Saurer Co., but the tipping gear is tested separately and, in the case of the end-tipping type just described, a special :U-shaped frame is utilized in place of the ordinary body, and in this frame is carried a full load, the bulk of the weight of which falls at the front end of the tipping platform.
This load is then lifted and lowered continuously for one hour, stops of 15 to 30 seconds' duration being made at the highest point and at various points during the descent.
By this means the oil pump, oil pipes, hydraulic cylinders and all other mechanical parts are tried out in a very thorough manner, and, having passed such a test.' both makers and users can be assured that only the best materials and workmanship arc embodied in the gear. While on the subject we will refer to some of the machines which are utilized for testing certain parts of tho chassis, such F.I.9 the piston rings and the bevel gearing of the final drive. The 'testing jig for the rings is arranged to register both the size and, the spring of the ring, as compared with one which conforms with the s.tandards fixed. The bevel gear testing machine gives the vact depth of tooth engagement and at once indicates any distortion.