ONE HEARS
26th August 1924
Page 3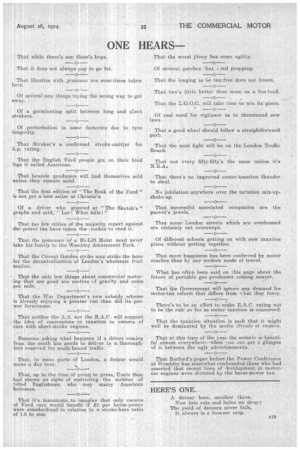 Page 3, 26th August 1924 —
ONE HEARS
Close
That while there's sun there's hope. That it does not always pay to go far.
That liberties with grammar are sometimes taken here.
Of several new things trying the wrong way to get away.
Of a germinating split between long and short strokers.
Of perturbation in some factories due to tyro longevity.
That Straker's a confirmed stroke-omitter for h.p. rating.
That the English Ford people get on their hind legs if called American.
That benzole producers will find themselves sold unless they remain solid.
That the first edition of " The Book of the Ford" is not yet a best seller at Christie's.
Of a driver who glanced at "The Skotch's " graphs and said,' " Lot' I What hills!"
That too few critics of the majority report against the petrol tax have taken the -..rouble to read it.
That the possessor 'of a, Hi-Lift Hoist need never take his family to the Wembley Amusement Park..
That the Covent Garden strike may strike the hour for the decentralization of London's wholesale fruit market.
That the only low things about commercial motoring that are good are. centres cf gravity and costs per mile.
That the Nliar Department's new subsidy scheme is 'already enjoying a greater run than did its prewar forerunner.
That neither the A.A. nor the R.A.C. will support the idea of concessions in taxation to owners of cars With short-stroke engines.
Someone asking what happens if a driver coming from the south has goods to deliver in a thoroughfare reserved for south-bound traffic, ' • That, in some parts of London, a detour would mean .a day tour.
That, up to the time of going to press, Uncle Sam had shown no signs of restricting the number of titled Englishmen who • may Marry American heiresses, That it's inaccurate.to imagine that only owners of Ford ears would benefit if 21 per horse-power were standardized in relation to a stroke-bore ratio of 1.5 to One. That the worst jitney has some agility.
Of several perches ',hat i..ed propping.
That: the longing to be tax-free does not lessen.
That two's little better than none as a bus-load.
That the L.G.O.C. will take time to win its game. • Of real need for vigilance as to threatened new laws.
Thata good wheel should follow a straightforward path.
That the next fight will be on the London Traffic Board.
That not N.B.A., every fifty-fifty's the same unless it's That there's no improved motor-taxation thunder to steal.
No jubilation anywhere over the taxation mix-upshake-up.
That Successful associated companies are the parent's jewels.
That some London streets which are overbussed are certainly not overswept.
Of different schools getting on with new taxation plans without getting together.
That more happiness has been conferred by motor coaches than by any modern mode• of travel.
What has often been said on this page about the future of portable gas producers coining nearer.
That the Government will ignore any demand for motor-tax reform that differs from v, hat they fancy.
There's to be an effort to make P,.A.C. rating not to be the rule so far as motor taxation is concerned, That the taxation situation is such that it might well be dominated by the motto Divide et impera.
That at this time of the year the scenery is beautiful almost everywhere—when -,•ou can get a glimpse of it between the ugly advertisements.
That Burford's paper before the Power Conference at Wembley has somewhat confounded those who had asserted that recent lines of development in motorcar engines were dictated by the horse-power tax.