A NOVEL DRIVING BELT WITH DISTINCTIVE FEATURES.
26th August 1924
Page 26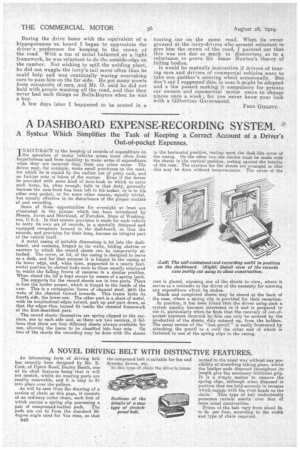 Page 26, 26th August 1924 —
A NOVEL DRIVING BELT WITH DISTINCTIVE FEATURES.
Close
An interesting form of driving belt has recently been designed by Mr. E. Cork, of Upton Road, Bexley Heath, one of its chief features being that it will not stretch, whilst its wearing parts are readily renewable, and it is easy to fit into place over the pulleys.
As will be seen from the drawing of a section of chain on this page, it consists of an ordinary roller chain, each link of which carries a spring clip possessing a pair of compressed-leather pads. The pads are cut to form the standard 211degree angle used for Vee rims, so that
B42 the compound belt is suitable for fan and dynamo drives, etc.
In this type of chain the drive is trans.
mitted in the usual way without any possibility of stretching taking place, whilst the leather pads disposed throughout its length give the necessary frictional grip. It is a simple matter to remove the spring clips, although when disposed in position they are held securely in recesses which engage with the rivet heads on the chain. This type of belt undoubtedly possesses certain merits over that of more usual construction.
Prices of the belt vary from about 5s.
• to 6s. per foot, according to the width and type of chain required.