Novel Six-wheeler Design.
26th August 1924
Page 20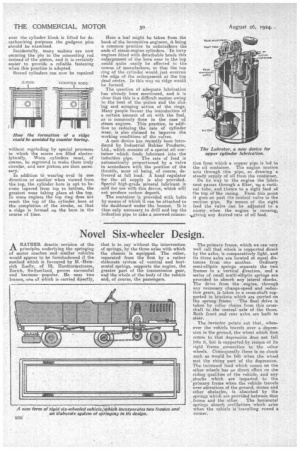 Page 20, 26th August 1924 —
Novel Six-wheeler Design.
Close
ARATHER drastic revision of the principles underlying the springing of motor coaches and similar vehicles would appear to be foreshadowed if the method which is favoured by M.HeMrich Zoelly, of 19, Hardturmstrasse, Zurich, Switzerland, proves successful and becomes-popular. He uses two frames, one of which is carried directly,
that is to say without the intervention of springs, by the three axles with which the chassis is equipped. The other, separated from the first by a rather elaborate system of vertical and horizontal springs, supports the engine, the greater part of the transmission gear, and the whole of the body of the vehicle and, of course, the passengers.
The primary frame, -which we can very well call that which is supperted direct by the axles, is comparatively light, and its three axles are located at equal distances from one another. Ordinary semi-elliptic springs separate the two frames in a vertical direction, and a series of small multi-elliptic springs are provided to absorb any lateral shocks. The drive from the engine, through any necessary change-speed and reduction gears' is taken to a cross-shaft supparted in brackets which are carried on the sprung frame. The final drive is taken by roller chains from this crossshaft to the central axle of the three. Both front and rear axles are built to steer. • The inventor points out that, whenever the vehicle travels over a depression in the ground, the-wheel which first comes to that depression does not fall into it, but is supported by reason of its rigid frame connection to the other wheels. • Consequently there is no shock such as would be felt when the wheel met the rising part of the depression. The increased load which comes on the other wheels has no direct effect on the riding qualities of the vehicle, and any shocks which are imparted to the primary frame when the vehicle travels over elevations of the ground, stones and other obstacles, is absorbed by the Springs which are provided between that frame and the other. The horizontal springs absorb oscillations which arise when the vehicle is travelling round a corner.