Culled from Contemporaries.
26th August 1909
Page 19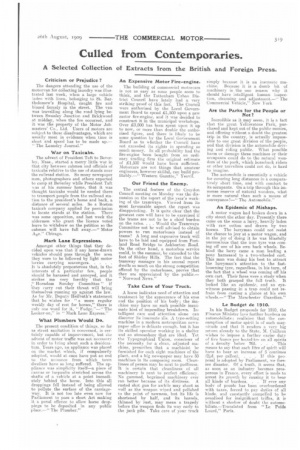 Page 19, 26th August 1909 —
Culled from Contemporaries.
Close
A Selected Collection of Extracts from the British and Foreign
Press.
Criticism or Prejudice ?
The dangers attending the use of the motor-van for collecting laundry was illustrated last week, when a large vehicle laden with linen, belonging to St. Bartholomew's Hospital, caught fire and blazed fiercely in the street. The van was travelling along the road lying between Swanley Junction and Brickwood at midday, when the fire occurred, and it was the property of the Motor Jobmasters' Co., Ltd. Users of motors are subject to these disadvantages, which are usually most in evidence when time is short and speed has to be made up.— " The Laundry Journal."
War on Taxicabs.
The advent of President Taft to Beverley, Mass., started a merry little war in that city between cabmen and officials of taxicabs relative to the use of stands near the railroad station. So many newspaper men, photographers and others expected to camp at Beverley while President Taft was at his summer home, that it was thought taxicabs would be needed there to transport people from the railroad station to the president's home and back, a distance of several miles. So a Boston taxicab company applied for permission to locate stands at the station. There was some opposition, and last week the aldermen who grant the licence voted leave to withdraw on the petition so the cabmen will have full sway.—" Motor Age." Chicago.
Mark Lane Expressions.
Amongst other things that they decided upon was that if any horse-drawn vehicles should pass through the area they were to be followed by light motor lorries carrying scavengers. . . . . It is absolutely preposterous that, in the interests of a particular few, people should be harassed and annoyed, and it strikes me very forcibly that the 'Horseless Sunday Committee " if they carry out their threat will bring themselves running up against the law. As for Mr. Deputy Heilbuth'e statement that he wishes for " a more regular weekly day of rest for horses," there is only one word for it, " Fudge."—" The Looker-on," in " Mark Lane Express."
What Plumbers Would Do.
The present condition of things, so far as street sanitation is concerned, is certainly capable of improvement, but ihe advent of motor traffic was not necessary in order to bring about such a desideratum. Years ago, an appliance was placed on the market which, if compulsorily adopted, would at once have put an end to the nuisance from which town dwellers have so long suffered. The appliance was simplicity itself—a piece of canvas or tarpaulin stretched across the shafts of a vehicle at a point immediately behind the horse. Into this all droppings fell instead of being allowed to pollute the surface of the carriageway. It is not too late even now for Parliament to pass a short, Act making it a penal offence to allow horse droppings to be deposited in any public place.—" The Plumber."
An Expensive Motor Fire-engine.
The building of commercial motorcars is not as easy as some people seem to think, and the Tottenham Urban District Council have lately had a very striking proof of this fact. The Council were authorised by the Local Government Board to spend £1,500 upon a new motor fire-engine, and it was decided to construct it in the municipal workshops. Over £3,000 has been spent upon it up to now, or more than double the authorised figure, arid there is likely to be some question by the Local Government Board as to whether the Council have not exceeded its rights in spending so much money. In all probability had the fire-engine been bought from an ordinary trading firm the original estimate of £1,500 would have been sufficient. Motorcars are not things that amateur engineers, however skilful, can build prolitably.—" Western Gazette," Yeovil.
Our Friend the Enemy.
The central feature of the Croydon Council meeting on Monday was the discussion on the report of the year's working of the tramways. Viewed from its most favourable aspect the report was disappointing. It is quite clear that the greatest care will have to be exercised if the trams are not to be a chief burden
on the rates . Would the Tramways Committee not be well advised to obtain powers to run motorbuses instead of trams? A long and expensive track will have to be laid and equipped from Portland Road Bridge to Ashburton Road. On the other hand, is motorbus service could, in the summer, be extended to the foot of Shirley Hills. The fact that the tramway manager in his annual report dwells so much on the strong competition offered by the motorbuses, proves that they are appreciated by the public.— " Norwood News."
Take Care of Your Truck.
A horse indicates need of attention and treatment by the appearance of his eyes and the position of his body ; the machine may have no such possible inanimate hint of impending breakdown. Intelligent care and attention alone can discover its insensate ills. A type-setting machine in a modern metropolitan newspaper office is delicate enough. but it has its skilled operator working in a shelter and an atmosphere that are ideal. Yet the Typographical Union, conscious of the necessity for a clean, adjusted machine, prescribes that a machinist be furnished for each eight. machines of the plant, and a big newspaper may have 50 machines in its composing room. Cleanliness of person may be next. to godliness. It is certain that cleanliness of all machinery is next to perfect efficiency. No gummed, begrimed machinery ever ran better because of its dirtiness. A rusted shot gun for awhile may shoot as well as the weapon wiped and polished to the point of newness, but its life is shortened by half, and its barrels, thinned by rust, may mean a tragedy before the weapon finds its way early to the junk pile. Take care of your truck
simply because it is an insensate machine. Because it is a dumb bit of machinery is the one reason why it should have intelligent human inspection, cleansing and adjustment.—' The Commercial Vehicle," New York
Are the Parks Tor the People or Not ?
Incredible as it may seem, it is a fact that the great Yellowstone Park, purchased and kept out of the public monies, and offering without a doubt the greateat trip in the country, is actually impassable to one great division of the people, and that division is the automobile driving and riding public. What possible harm or damage these machines or their occupants could du to the natural wonders of the park, which horseback riders or other travellers could not do, is hard to imagine.
The automobile is essentially a vehicle for covering long distances in a comparatively short time, and with comfort to its occupants. On a trip through this immense reserve of natural wonders, what is more natural than such a means of conveyance?—" The Automobile."
An Epidemic of Mishaps.
A motor wagon had brokers down in a city street the other day. Presently there came on the scene a lurry, heavily laden with raw cotton and 'drawn by two horses. The lurryman could not resist the chance to jeer at a motor wagon, and in the joy of doing it he was blissfully unconscious that the iron tyre was coming off one of his own back wheels. Behind the harry came a man leading a pony harnessed to a two-wheeled cart. This man was doing his best to attract the lurryman's attention to the fastloosening tyre, regardless, in his turn, of the fact that a wheel was coming off his own cart. Their faces were a study when they both grasped the full truth. It looked like an epidemic, and an eyewitness passing in a trap could not refrain from casting a glance at his own wheels.—" The Manchester Guardian."
Le Budget de 1910.
In his Budget proposals for 1910, the Finance :Minister lava further burdens on antomobilists; realisinu that the consumption of motor spirit, is of such magnitude and that it. renders a very big return already to the State. M. Caillaux wishes to impose a further excise duty of five francs per hectolitre on all spirits of a density below 765. . . . This means to say that each litre of spirit will have to bear an increase of 5 centimes (2id. per gallon). . . . If this proposal is adopted by Parliament, we foresee disaster. Of a truth, it seems that, as soon as an industry becomes prosperous in France, every effort is made to arrest its growth by causing it to bear all kinds of burdens. . . If ever any body of people has been overburdened with taxes, forced to pay duties of all kinds, and constantly compelled to be penalised for insignificant trifles, it is without a shadow of doubt the automobilists.—Translated from "Le Poids Lourd," Paris.