The Price of a Road Department.
26th August 1909
Page 1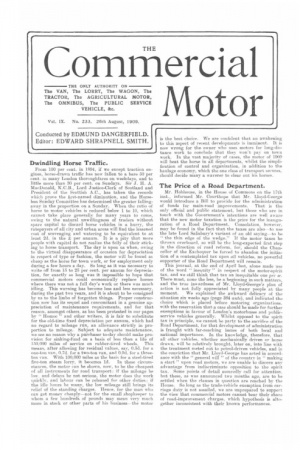 Page 1, 26th August 1909 —
The Price of a Road Department.
Close
Hobhouse, in the House of Commons on the 17th inst., informed Mr. Courthope that Mr. Lloyd-George would introduce a Bill to provide for the administration of funds for main-road improvements. That is the only official and public statement, but those who are in touch with the Government's intentions are well aware that the new motor taxation is the price for the inauguration of a Road Department. Consolation, however, may be found in the fact that the taxes are also—to use the late Lord Salisbury's variant of an old saying—to he " the thin edge of the wedge." If the motor taxes be thrown overboard, so will be the long-expected first step in the direction of road reform, for, should the Chancellor of the Exchequer be forced to abandon the initiation of a contemplated tax upon all vehicles, no powerful supporter of the Road Department will remain.
This journal, at the end of April last, alone made use of the word " inequity " in respect of the motor-spirit tax, and we still think that tax an inequitable one per se. There must, none the less, be a beginning in such matters, and the true inwardness of Mr, Lloyd-George's plan of action is not fully appreciated by many people at the moment. We explained the awkward delicacy of the situation six weeks ago (page 384 ante), and indicated the choice which is placed before motoring organizations, with the reservation that a case should be made for further exemptions in favour of London's motorbuses and publicservice vehicles generally. Whilst opposed to the spirit tax in principle, we cannot be party to the sacrifice of the Road Department, for that development of administration is fraught with far-reaching issues of both local and national importance. In the knowledge, therefore, that all other vehicles, whether mechanically driven or horse drawn, will he relatively brought, later on, into line with the treatment meted out to petrol-driven vehicles, and in the conviction that Mr. Lloyd-George has acted in accordance with the " general will " of the eountry in " making a start " upon road motors, we are linable to discern any advantage from indiscriminate opposition to the spirit tax. Some points of detail assuredly call for attention. but these, as was announced two months ago, are to be settled when the clauses in question are reached by the House. So long as the trade-vehicle exemption from carriage duty is not assailed, we are unprepared to support the view that commercial motors cannot bear their share of road-improvement charges, whirl hypothesis is altogether inconsistent with their known performances.