Ashwell and Moore answer Silbermann
26th April 1980
Page 5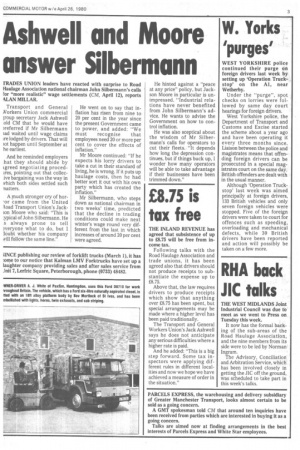 Page 5, 26th April 1980 —
Ashwell and Moore answer Silbermann
Close
TRADES UNION leaders have reacted with surprise to Road Haulage Association national chairman John Silbermann's calls 'or "more realistic" wage settlements (CM, April 12), reports MEAN MILLAR.
Transport and General Yorkers Union commercial ;roup secretary Jack Ashwell old CM that he would have )referred if Mr Silbermann tad waited until wage claims :re lodged by drivers. That will lot happen until September at he earliest.
And he reminded employers hat they should abide by igreed negotiating procedires, pointing out that collecive bargaining was the way in which both sides settled such natters.
A much stronger cry of hor-or came from the United Zoad Transport Union's Jack;on Moore who said: "This is ,ypical of John Silbermann. He s always prone to tell .veryone what to do, but I loubt whether his company vill follow the same line." He went on to say that inflation has risen from nine to 20 per cent in the year since the present Government came to power, and added: "We must recognise that employees need 20 or more per cent to cover the effects of inflation."
Mr Moore continued: "If he expects his lorry drivers to take a cut in their standard of living, he is wrong. If it puts up haulage costs, then he had better sort it out with his own party which has created the inflation."
Mr Silbermann, who steps down as national chairman in two weeks' time, predicted that the decline in trading conditions could make next winter's wage round very different from the last in which increases of around 20 per cent were agreed. He hinted against a "peace at any price" policy, but Jackson Moore in particular is unimpressed. "Industrial relations have never benefited from John Silbermann's advice. He wants to advise the Government on how to control inflation.
He was also sceptical about the wisdom of Mr Silbermann's calls for operators to cut their fleets. "It depends how long the depression continues, but if things buck up, I wonder how many operators will be able to take advantage if their businesses have been trimmed down."