Tell-tale signs for security men
26th April 1980
Page 38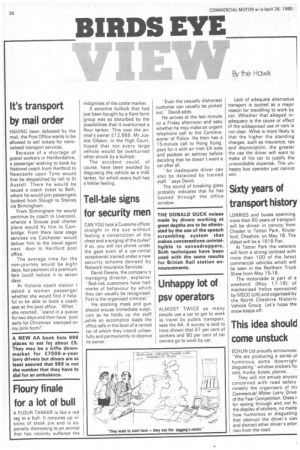 Page 38, 26th April 1980 —
Tell-tale signs for security men
Close
CAN YOU look a Customs officer straight in the eye without feeling a constriction of the chest and a surging of the pulse? If so, you will not shrink under the gaze even of a car-rental receptionist trained under a new security scheme devised by Network Insurance Services.
David Owens, the company's managing director, explains: "Bad-risk customers have hallmarks of behaviour by which they can usually be recognised. First is the organised criminal."
His stocking mask and gun should arouse immediate suspicion as he holds up the staff .while an accomplice loads the office safe in the boot of a rented car of which they intend unlawfully and permanently to deprive its owner. "Even the casually dishonest customer can usually be picked out," David adds.
He arrives at the last minute on a Friday afternoon and asks whether he may make an urgent telephone call to the Commissioner of Police. He then has a 1 5-minute call to Hong Kong, pays for it with an Irish £4 note and pockets an ashtray before deciding that he doesn't want a car after all.
"An inadequate driver can also be detected by trained staff," says David.
The sound of breaking glass probably indicates that he has backed through the office window.
THE DONALD DUCK noises made by divers working at great depths are to be eliminated by the use of the speech scrambling system that makes conversations unintelligible to eavesdroppers. Both techniques have been used with the same results for British Rail station announcements.