Contrasts in Northumberland
26th April 1980
Page 22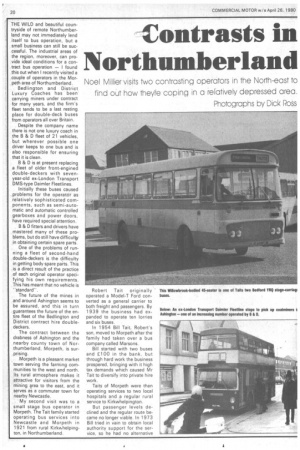 Page 23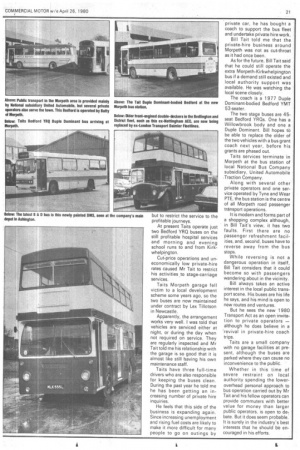 Page 22, 26th April 1980 —
Contrasts in Northumberland
Close
THE WILD and beautiful countryside of remote Northumberland may not immediately lend itself to bus operation, but a small business can still be successful. The industrial areas of the region, moreover, can provide ideal conditions for a contract bus operation — I found this out when I recently visited a couple of operators in the Morpeth area of Northumberland.
Bedlington and District Luxury Coaches has been carrying miners under contract for many years, and the firm's fleet tends to be a last resting place for double-deck buses from operators all over Britain.
Despite the company name there is not one luxury coach in the B & D fleet of 21 vehicles, but wherever possible one driver keeps to one bus and is also responsible for ensuring that it is clean.
B & D is at present replacing a fleet of older front-engined double-deckers with sevenyear-old ex-London Transport DMS-type Daimler Fleetlines.
Initially these buses caused problems for the operator as relatively sophisticated components, such as semi-automatic and automatic controlled gearboxes and power doors, have required special attention.
B & D fitters and drivers have mastered many of these problems, but do still have difficulty in obtaining certain spare parts.
One of the problems of running a fleet of second-hand double-deckers is the difficulty in getting body spare parts. This is a direct result of the practice of each original operator specifying his own requirements. This has meant that no vehicle is "standard".
The future of the mines in and around Ashington seems to be assured, and this in turn guarantees the future of the entire fleet of the Bedlington and District contract hire doubledeckers.
The contract between the drabness of Ashington and the nearby county town of Northumberland, Morpeth, is surprising.
Morpeth is a pleasant market town serving the farming communities to the west and north. Its rural atmosphere makes it attractive for visitors from the mining area to the east, and it serves as a commuter town for nearby Newcastle.
My second visit was to a small stage bus operator in Morpeth. The Tait family started operating bus services into Newcastle and Morpeth in 1921 from rural Kirkwhelpington, in Northumberland. Robert Tait originally operated a Model-T Ford converted as a general carrier to both freight and passengers. By 1939 the business had expanded to operate ten lorries and six buses.
In 1954 Bill Tait, Robert's son, moved to Morpeth after the family had taken over a bus company called Marsons.
Bill started with two buses and £100 in the bank, but through hard work the business prospered, bringing with it high tax demands which caused Mr Tait to diversify into private hire work.
Taits of Morpeth were then operating services to two local hospitals and a regular rural service to Kirkwhelpington.
But passenger levels declined and the regular route became no longer viable. In 1973 Bill tried in vain to obtain local authority support for the service, so he had no alternative but to restrict the service to the profitable journeys.
At present Taits operate just two Bedford YRQ buses on the still profitable hospital services and morning and evening school runs to and from Kirkwhelpi_ngton.
Cut-price operations and uneconomically low private-hire rates caused Mr Tait to restrict his activities to stage-carriage services.
Taits Morpeth garage fell victim to a local development scheme some years ago, so the two buses are now maintained under contract by Lex Tillotson in Newcastle.
Apparently, the arrangement works very well. I was told that vehicles are serviced either at night, or during the day when not required on service. They are regularly inspected and Mr Tait told me his relationship with the garage is so good that it is almost like still having his own maintenance staff.
Taits have three full-time drivers who are also responsible for keeping the buses clean. During the past year he told me he has been getting an increasing number of private hire inquiries.
He feels that this side of the business is expanding again. Since increasing unemployment and rising fuel costs are likely to make it more difficult for many people to go on outings by private car, he has bought a coach to support the bus fleet and undertake private hire work.
Bill Tait told me that the private-hire business around Morpeth was not as cut-throat as it had once been. • As for the future, Bill Tait said that he could still operate the extra Morpeth-Kirkwhelpington bus if a demand still existed and local authority support was available. He was watching the local scene closely.
The coach is a 1977 Duple Dominant-bodied Bedford YMT 53-seater.
The two stage buses are 45seat Bedford YRQs. One has a Willowbrook body and one a Duple Dominant. Bill hopes to be able to replace the older of the two vehicles with a bus grant coach next year, before his grants are phased out.
Taits services terminate in Morpeth at the bus station of local National Bus Company subsidiary, United Automobile .Traction Company.
Along with several other private operators and one ser vice operated by Tyne and Wear PTE, the bus station is the centre of all Morpeth road passenger transport operations.
It is modern and forms part of a shopping complex although, in Bill Tait's view, it has two faults. First there are no passenger refreshment facil ities, and, second, buses have to reverse away from the bus stops.
While reversing is not a dangerous operation in itself, Bill Tait considers that it could become so with passengers wandering about in the vicinity.
Bill always takes an active interest in the local public trans port scene. His buses are his life he says, and his mind is open to new routes and ventures.
But he sees the new 1 980 Transport Act as an open invita tion to private operators — although he does believe in a 'revival in private-hire coach trips.
Taits are a small company with no garage facilities at pre sent, although the buses are parked where they can cause no inconvenience to the public.
Whether in this time of severe restraint on local authority spending the lower overhead personal approach to bus operation carried out by Mr Tait and his fellow operators can provide commuters with better value for money than larger public operators, is open to debate. But it does seem probable. It is surely in the industry's best interests that he should be encouraged in his efforts.