You just can't beat that personal touch
26th April 1980
Page 12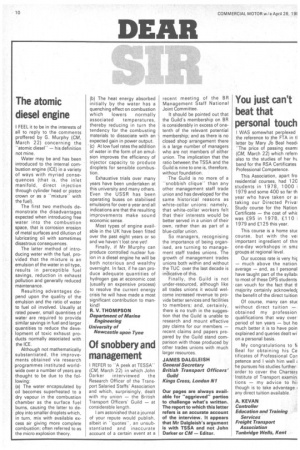 Page 12, 26th April 1980 —
You just can't beat that personal touch
Close
I WAS somewhat perplexed the reference to the ETA in ti letter by Mary Jb Beal head+ "The price of passing exam: (CM, March 22) which refern also to the studies of her ht, band for the RSA Certificates Professional Competence.
This Association, apart fro residential courses, had 120 students in 1978, 1000 i 1979 and some 400 so far th year who have taken or ai taking our Directed Privet Study course for the Nation Certificate — the cost of whic was £95 in 1978, £110 i 1979 and £125 this year.
This course is a home stuc course, but with the vei important ingredient of thrE one-day workshops in vme. groups at regional level.
Our success rate is very hic — much above the nation average — and, as I personal have taught part of the syllabi to most of these DPS students can vouch for the fact that tf majority certainly acknowledc the benefit of the direct tuition Of course, many can stuc without direct tuition — obtained my profession qualifications that way over period of ten years — but ho much better it is to have poin explained and queries dealt wr on a personal basis.
My congratulations to N Beal for obtaining his Ce tificates of Professional Con petence and I wish him well t• he pursues his studies further order to cover the Chartere • Institute of Transport exam in tions — my advice to hii though is to take advantage 4 any direct tuition available.
A. KEVAN Controller Education and Training Services Freight Transport Association Tunbridge Wells, Kent