Of snobbery and management
26th April 1980
Page 12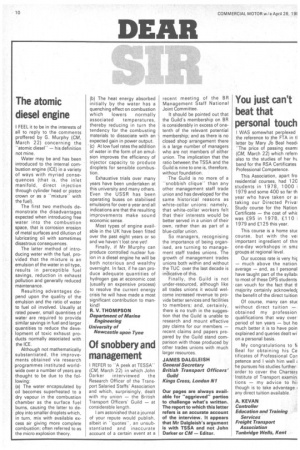 Page 12, 26th April 1980 —
Of snobbery and management
Close
I REFER to "A peek at TESSA" (CM, March 22) in which John Darker interviewed the Research Officer of the Transport Salaried Staffs' Association and which, surprisingly, dealt with my union — the British Transport Officers' Guild — at considerable length.
I am astonished that a journal of your repute would publish, albeit in "quotes", an unsubstantiated and inaccurate account of a certain event at a recent meeting of the BR Management Staff National Joint Committee.
It should be pointed out that the Guild's membership on BR is considerably in excess of onetenth of the relevant potential membership; and as there is no closed shop arrangement there is a large number of managers who are not members of either union. The implication that the ratio between.the TSSA and the Guild is nine to one is, therefore, without foundation.
The Guild is no more of a "snobbish clique" than any other management staff trade union and has developed for the same historical reasons as white-collar unions: namely, that white-collar workers felt that their interests would be better served in a union of their own, rather than as part of a blue-collar union, So managers, recognising the importance of being organised, are turning to management staff trades unions. The growth of management trades unions both within and without the TUC over the last decade is indicative of this.
Finally, the Guild is not under-resourced, although like all trades unions it would welcome increased revenue to provide better services and facilities to members; and, certainly, there is no truth in the suggestion that the Guild is unable to research and mount effective pay claims for our members — recent claims and papers prepared by the Guild stand comparison with those produced by other trades unions with much larger resources.
JAMES DALG LEI SH General Secretary British Transport Officers' Guild Kings Cross, London N1