Wide-ranging report from PTA
26th April 1968
Page 37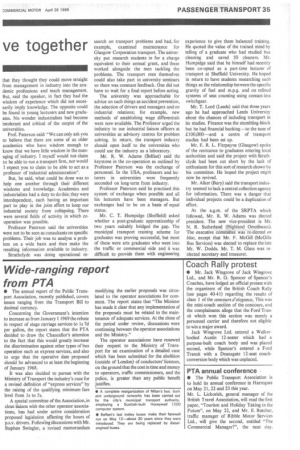 Page 37, 26th April 1968 —
Wide-ranging report from PTA
Close
• The annual report of the Public Transport Association, recently published, covers issues ranging from the Transport Bill to decimal currency.
Concerning the Government's intention to increase as from January 1 1969 the rebate in respect of stage carriage services to ls 7d per gallon, the report states that the PTA decided to draw the Chancellor's attention to the fact that this would greatly increase the discrimination against other types of bus operation such as express services, and also to urge that the operative date proposed should be advanced to at least the beginning of January 1968.
It was also decided to pursue with the Ministry of Transport the industry's case for a revised definition of "express services" by the raising of the qualifying minimum fare level from Is to 5s.
A special committee of the Association, in close liaison with the other operator associations, has had under active consideration proposed legislation affecting the hours of p.s.v. drivers. Following discussions with Mr. Stephen Swingler, a revised memorandum modifying the earlier proposals was circulated to the operator associations for comment. The report states that "The Minister has made it clear that any implementation of the proposals must be related to the maintenance of adequate services. At the close of the period under review, discussions were continuing between the operator associations and the Ministry."
The operator associations have renewed their request to the Ministry of Transport for an examination of a detailed case which has been submitted for the abolition (outside of London) of conductors' licences, on the ground that the cost in time and money to operators, traffic commissioners, and the police, is greater than any public benefit justifies.
• A complete reorganization of Milan's bus, tram and underground networks has been carried out by the city's municipal transport authority, employing a Scottish-built Honeywell 1200 computer system.
• Belfast's last trolley buses make their farewell run on May 12—about 30 years since they were introduced. They are being replaced by dieselengined buses.