Are Traditional Transmission Systems Doomed?
26th April 1957
Page 43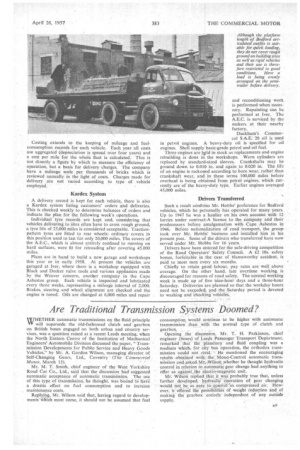 Page 43, 26th April 1957 —
Are Traditional Transmission Systems Doomed?
Close
WHETHER automatic transmissions on the fluid principle W will supersede the old-fashioned clutch and gearbox on British buses engaged on both urban and country services, Was a question raised at a recent Leeds meeting, when the North Eastern Centre of the Institutionof Mechanical. Engineers' Automobile Division discussed the paper, "Transmission Developments for Public Service and Heavy Goods Vehicles," by Mr. A. Gordon Wilson, managing 'director, of Self-Changing Gears, Ltd., Coventry • (The COintnertial Motor, March 15).
Mr. M. T. Smith, chief engineer of the: West Yorkshire Road Car Co., Ltd., said that the discussion had suggested automatic acceptance of automatic transinissiOn. The use of this type of transmission, he thdught, was bound fa haVe a drastic effect on fuel consumption and to increase maintenance costs.
Replying, Mr. Wilson said that, having regard to developments-which must come, it should not be assumed that fuel
consumption would continue to be higher with automatic transmission than _ with 'the normal type of clutch and gearbox. , Opening the discussion, Mr. T. H. Parkinson, chief engineer (buses) of Leeds Passenger Transport Department, remarked that the planetary and fluid coupling was a medium which, for city bus operation, the orthodox transmission could nOt rival. He mentioned the encouraging results obtained with the Mono-Control automatic trans, ,
FIMSS1011 ,asked Mr, Wilson whether he thought hydraulic
control in relation to automatic gear change had anything to Offer as against the electro-magnetic unit.
Mr. Wilson replied that it was probably true that unless further developed, hydraulic operation of gear changing would not be as easy to control 'as compressed air. However,'it:Offered the possibilities of weight reduction and of making the gearbox entirely independent of any outside supply.