Lisbon Buys British
25th October 1946
Page 45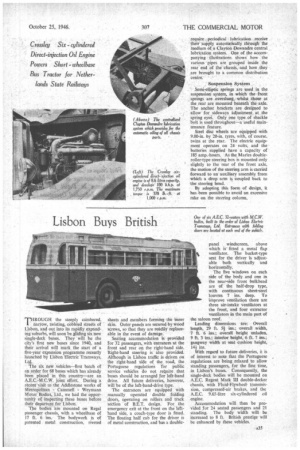 Page 45, 25th October 1946 —
Lisbon Buys British
Close
THROUGH the steeply cambered. I narrow, twisting, cobbled streets of Lisbon, and out into its rapidly expanding suburbs, will soon be gliding six new single-deck buses. They will be the city's first new buses since 1940, and their arrival will mark the start of a five-year expansion programme recently launched by Lisbon Electric Tramways, Ltd.
The six new vehicles—first batch of anorder for 68 buses which has already been placed in this country—are an kEC.-M.C.W. joint effort. During a recent visit to.the Addlestone works of Metropolitan Cammell Weyrnann Motor Bodies, Ltd., we had the opportunitY of inspecting these buses before their departure for Lisbon.
The bodies are mounted on Regal passenger chassis, with a wheelbase of 17 ft. 6 ins. The bodywork is of patented metal construction, riveted sheets and members forming the inner skin. Outer panels are secured by wood screws, so that they are readily replaceable in the event of damage.
Seating accommodation is provided for 32 passengers, with entrances -at the front and rear on the right-hand side. Right-hand steering is also provided. Although in Lisbon traffic is driven on the right-hand side of the road, the Portuguese regulation's for public service vehicles do not relptire that buses should be arranged for left-hand drive. All future deliveries, however, will be of the left-hand-drive type.
The entrances are equipped with manually operated double folding doors, operating on rcillers and track section of B.E.T. design. For the emergency exit at the front on the lefthand side, a coach-type door is fitted. The floating half cab for the driver is of metal construction, and has a double
panel windscreen, above which is fitted a metal flap ventilator. The bucket-type seat for the driver is adjustable both vertically and horizontally.
The five windows on each side of the body and one in the near-side front bulkhead are of the half-drop type, with continuous sheet-steel louvres 7 ins, deep. To improve ventilation there are three air-intake ventilators at the front, and four extractor ventilators in the main part of the saloon roof.
Leading dimensions are: Overall length, 29 ft, n ins.; overall width, 7 ft. 6 ins.; overall height unladen, 9 ft. 3 ins.; interior height, 6 ft. 7 Ms.; gangway width at seat cushion height, 14i ins.
With reginal to future deliveries, it is of interest to note that the Portuguese regulations are being relaxed to allow standing passengers" for the first time, in Lisbon's buses. Consequently, the single-deck bodies will be mounted on A.E.C. Regent Mark III double-decker chassis, with Fluid-Flywheeltransmission, compressed-air brakes, and the A.E.C. 9.65-litre six-cylindered oil engine.
Accommodation will then be provided for 24 seated passengers and 21 standing. The body width will be increased to 8 ft. British prestige will be enhanced by these vehicles.