Small Dumpers Aid the Builder
25th November 1955
Page 53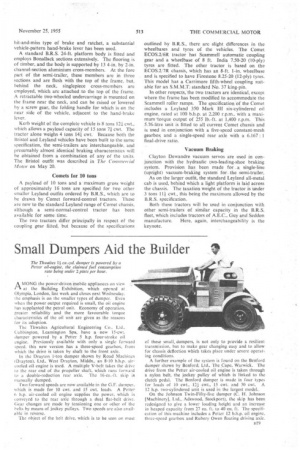 Page 53, 25th November 1955 —
Small Dumpers Aid the Builder
Close
AMONG the power-driven -mobile appliances on view at the Building Exhibition, which opened at Olympia, London, last week and closes next Wednesday, the emphasis is on the smaller types of dumper. Even when the power output required is small, the oil engine has supplanted the petrol unit. Economy of operation, greater reliability and the more favourable torque characteristics of the oil unit are given as the reasons for its adoption.
The Thwaites Agricultural Engineering Co., Ltd., Cubbington, Leamington Spa, have a new 15-cwt, dumper powered by a Petter 5 h.p. four-stroke oil engine. Previously available with only a single forward speed, this new version has a three-speed gearbox, front which the drive is taken by shaft to the front axle,
Lit the Drayton 1-ton dumper shown by Road Machines (Drayton). Ltd., West Drayton, Middx., an 8-10 h.h.p. aircooled oil engine is used. A multiple V-belt takes the drive to the rear end of the propeller, shaft, which runs forward to a double-reduction rear axle, The 16-cu-ft. skip is manually dumped.
Two forward speeds are now available in the G.F. dumper, which is made for 10 Cwt. and 15 'cwt. loads. A Petter 6 h.p. air-cooled oil engine supplies the power, which is conveyed to the rear axle through a dual flat-belt drive. Gear changes are made by tensioning one or other of the belts by means of jockey pulleys. Two speeds are also available in reverse.
The object of the belt drive, which is to be seen on most of these small, dumpers, is not only to provide a resilient transmission, but to make gear changing easy and to allow for chassis deflection which takes place under severe operat-, ing conditions.
A further Example of the system is found on the Benford dumper shown by Benford, Ltd., The Cape, Warwick. The drive from the Petter air-cooled oil engine is taken through a nylon belt, the jockey pulley of which is linked to the clutch pedal. The Benford dumper is made in four types for loads of 10 cwt., 121 cwt., 15 cwt. and 30 cwt. A 12 11.p. two-cylindered unit is used in the largest model.
On the Johnson Twin-Fifty-five dumper .(C. H. Johnson [Machiner0, Ltd., Ads.wood, Stockport), the skip has been redesigned to give a lower loading height and an increase in heaped capacity from 27 cu. ft. to 40 Cuft. The .specification of this machine includes a Petter 12 b.h.p. oil engine, three-speed gearbox and Rubery Owen floating driving axle.