Valve-spring. Failure Through• Corrosion
25th November 1955
Page 41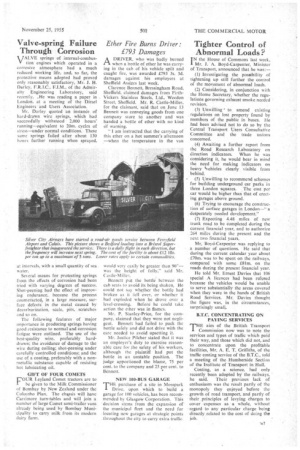 Page 41, 25th November 1955 —
Valve-spring. Failure Through• Corrosion
Close
xiALVE springs of internal-combus
tion engines which operated in a corrosive atmosphere had a much reduced working life, and, so far, the protective means adopted had proved only reasonably satisfactory, Mr. J. H. Darley, F.R.1.C.. F.I.M., of the Admiralty Engineering Laboratory, said recently. ,He was reading a paper in London. at a meeting of the Diesel Engineers and Users Association.
Mr. Darley quoted an instance of hard-drawn wire springs, which had successfully withstood 2,000 hours' running—equivalent to 20m. cycles of stress—under normal conditions. These same springs• failed after about 130 hours further miming when sprayed, at intervals, with a small quantity of sea wale r.
Several means for protecting springs from the effects of corrosion had been tried with varying degrees of success. Shot-peening had the effect of improving endurance; because the process counteracted/ in a large Measure, surface defects. in the metal caused by decarbinizaticin, scale, pits, scratches and so on.
The following features of major importance in producing springs having good resistance to normal and corrosion fatigue were outlined. The use of the best-quality wire, preferably harddrawn; the avoidance of damage to the wire during coiling:. shot-peening under carefully controlled conditions; and the use of a coating, preferably with a nonmetallic substance capable of resisting hot lubricating oil.
GIFT OF FOUR COMETS FOUR Leyland Comet tractors are to I be given to the Milk Commissioner of Bombay by New Zealand under the Colombo Plan. The clia,ssis will have Carrirnore turn-tables and will join a number of large Comet semi-trailer vans already being used by Bombay Municipality 19 carry milk from its modern dairy farm.