"7,000 People Entitled to Trips"
25th November 1955
Page 40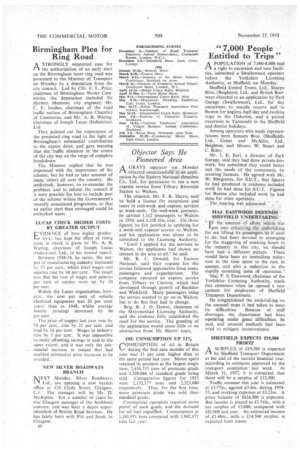 Page 40, 25th November 1955 —
"7,000 People Entitled to Trips"
Close
A POPULATION of 7,000-8,000 had ris a right to excursion and tour facilities, submitted a Swallownest operator before the Yorkshire Licensing Authority, at Sheffield, on Monday.
Sheffield United Tours, Ltd,, Sharpe Bros. (Beighton), Ltd., and British Railways objected to an application by Park Garage (Swallownest), Ltd., for day excursions to seaside resorts and to Boston for anglers, half-day and evening trips to the Dukeries, and a period excursion to Yarmouth in the Sheffield and district holidays.
Among operators who made representations were Sansam Bros. (Sheffield), Ltd., Grant and McAllin, Ltd., Beighton, and Messrs. W. Smart and C. Riley.
Mr. J. E. Earl, a director of Park Garage, said they had done private-hire work, but submitted they could. better suit the needs of the community by securing licences. He agreed with Mr. W. Hargraves, for S.U,T., that figures he had, produced in evidence included work he had done for S.U.T. Figures for Boston also included work he had done fOr other operators.
The hearing was .adjourned.
MAJ. EASTWOOD _DEFENDS SHEFFIELD UNDERTAKING "
IF the amount of effort which was put into criticizing the .undertaking flar not lifting its passengers a's it used to do, had been devoted to arranging for the staggering of working hours in the industry in this city, we should have had a different picture. There would have been an immediate .reduction in the time spent in the rain in queues, and also a reduction in the rapidly mounting costs of operation."
Maj. F. S. Eastwood, chairman of the Yorkshire Licensing Authority, made this comment when he opened a new canteen for employees of Sheffield Transport Department. • He congratulated the undertaking on the unusual steps it had taken to meet its difficulties. Because of staff shortages, the department had been operating under great difficulties, he said, and unusual methods had been tried to mitigate inconvenience.
SHEFFIELD EXPECTS £19,500 PROFIT
A SURPLUS of £19,500 is expected 1-1 by Sheffield Transport Department at the end of the current financial year, according to estimates approved by the transport committee last week. At March 31, 1957, it is estimated that there will be a surplus of £12,500.
Traffic revenue this year is estimated at £3.77m., against E3.4m. during 195455, and working expenses at £3.21m. A gross balance of £624,500 is expected. Bus income is placed at f2.34m., with a net surplus of £5,000, compared with £81,000 last year. An estimated income of £1.48m., with a £14,500 surplus, is expected from trams.