Men in the News
25th November 1955
Page 36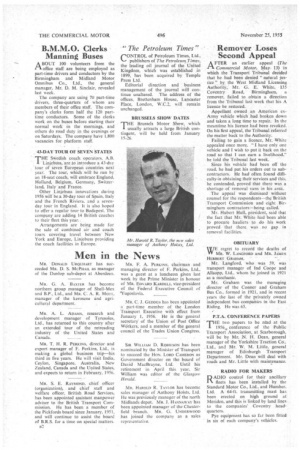 Page 36, 25th November 1955 —
Men in the News
Close
MR. DONALD URQUTIART has succeeded MR. D. S. MCPHAIL as manager of the Dunlop sub-depot at Aberdeen.
MR. G. A. BAXTER has become northern group manager of Shell-Mex and B.P., Ltd., and Ma. C. A. R. Mort-, manager of the kerosene and agricultural department.
MR. A. L. ADAMS, research and development manager of Tyresoles, Ltd., has returned to this country after an extended tour of the retreading industry of the United States and Canada.
MR. T. H. R. PERKINS, director and export manager of F. Perkins, Ltd., is making a global business trip—his third in five years. He will visit India, Ceylon, Singapore, Australia, New Zealand, Canada and the United States, and expects to return in February, 1956.
MR. S. E. RAYMOND, chief officer (organization), and chief staff and welfare officer, British Road Services, has been appointed assistant manpower adviser to the British Transport Commission. He has been a member of the Pickfords board since January, 1951, and will continue to assist the board of B.R.S. for a time on special matters.
52
MR. F. A. PERKINS, chairman and managing director of F. Perkins, Ltd., was a guest at a luncheon given last week by the Prime Minister in honour of MR. EDWARD KARDELI, vice-president of the Federal Executive Council of *Yugoslavia.
MR. C. J. GEDDES has been appointed a' part-time member of the London Transport Executive with effect from January 1, •1956. He is the general secretary of the Union of Post Office Workers, and a member of the general council of the Trades Union Congress.
SIR WILLIAM D. ROBIFSON has been nominated by the Minister of Transport to succeed the HON. LORD CAMERON as Government director on the board of David MacBrayne, Ltd. Until his retirement in April this year, Sir William was editor of the Glasgow Herald.
Mn. Hama) R. TavLoa has become sales manager of Anthony Hoists, Ltd. He was previously manager of the north Midlands depot. MR. J. 1-TANNAWAY has been appointed manager of the Chesterfield branch. MR. G. UNDERWOOD has joined the company as a sales representative.