Councils Face New Pay Claim
25th November 1955
Page 35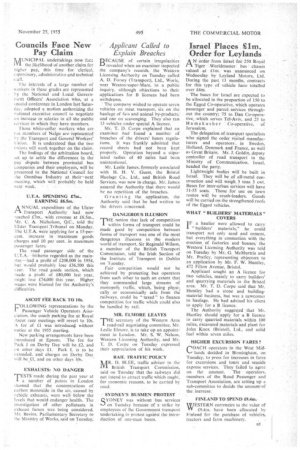 Page 35, 25th November 1955 —
Councils Face New Pay Claim
Close
1\4UN [OPAL undertakings now face the likelihood of another claim for higher pay, this time for clerical, sttpervisory, administrative and technical szaff.
The interests of a large number of
• workers in these grades are represented . by the National and Local Government Officers' Association who, at a special conference in London last Saturda!,. adopted a motion authorizing the national executive council to negotiate no increase in salaries in all the public s,:rvices in which they have members. Those white-collar workers who are not members of Maga arc represented 1-y the Transport and General Workers' Union. It is understood that the two unions will work together on the claim. The findings of the arbitration board, set up to settle the differences in the pay dispute • between provincial bus companies and their employees, will be presented to the National Council for the Omnibus Industry at their –next meeting, which will probably he held next week.
U.T.A. SPENDING Thu., EARNING 16.5m.
ANNUAL expenditure of the Ulster Transport Authority had now reached £7m., with revenue at £6.5m., Mr. C. A. Nicholson, Q.C., told the (Aster Transport Tribunal on Monday. The U.T.A. were applying for a 15-percent. increase in 'maximum goods charges and 10 per cent in maximum
passenger fares. •
The road passenger side of the U.T.A.-hitherto regarded as the mainstay—had a profit or £208,000 in 1954, hut would probably lose £36,500 this %. ear.. The road goods section, which made a profit of £80,000 last year, might lose £74,000 this year. Higher, wages were blamed for the Authority's difficulties.
ASCOT FEE BACK TO 10s.
L'OL LOWING representations by the I Passenger Vehicle Operators AsSociation, the coach parking fee at Royal Ascot race meetings will revert to 10s. A fee of El was introduced without notice at the 1955 meeting.
New parking arrangements have been introduced at Epsom. The fee for Park J on Derby Day will be £2, and on other days LI. Park L is to be extended, and charges on Derby Day will he El. and on other days '10s.
EXHAUSTS: NO DANGER
T ESTS made during the past year at I a number of points in London showed that the concentrations of carbon monoxide in the air, caused by %chicle exhausts, were well below the kveis that would endanger health. The investigation of other pollutants in exhaust fumes was being considered, Mr. Bevins, Parliamentary Secretary to the Ministry of Works, said on Tuesday: