Answers to Queries.
25th November 1915
Page 19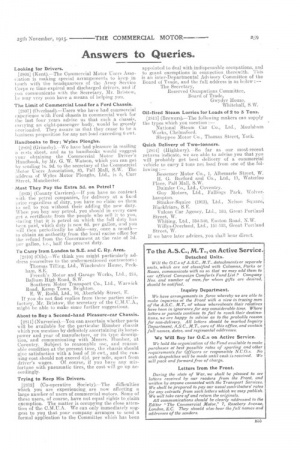 Page 19, 25th November 1915 —
Answers to Queries.
Close
Looking for Drivers.
[2806] (Kent).--The Commercial Motor Users Association is making special arrangements to keep in touch with the headquarters of the Army Service Corps re time-expired and discharged drivers, and if you communicate with the Secretary, Mr. Bristow, he may very soon have a means of helping you.
The Limit of Commercial Load for a Ford Chassis.
[2807] (Overload).—Users who have had commercial experience with Ford chassis in commercial work for the last four years advise us that such a chassis, carrying an eight-passenger body, would be grossly overloaded. They assure us that they cease to be a husiness proposition for any net load exceeding 6 cwt.
Handbooks to Buy; Wyles Ploughs.
[2808] (Grimsby).—We have had pleasure in mailing a cests sheet, and as to handbooks would suggest your obtaining the Commercial Motor Driver's Handbook, by Mr. G. W. Watson, which you can get hy sending -1s. 9d. to the secretary of the Commercial Motor Users Association, 83, Pall Mall, S.W. The address of Wyles Motor Ploughs, Ltd., is 5, Carr Street, Manchester.
Must They Pay the Extra 5d. on Petrol ?
[2800] (County Carriers).—If you have no contract with the petrol companies, for delivery at a fixed price regardless of duty, you have no claim on them to sell to you without their adding the new duty. When you buy any petrol, you should in every case get a certificate from the people, who sell it to you, stating that it is petrol on which the full duty has been paid, which duty is n-ow 6d. per gallon, and you will then periodically be able—say, once a month— to obtain an authority from the local excise office for the refund from the Government at the rate of 3d. per gallon, i.e., half the present. duty.
To Carry front London to S.E. and C, Ry. Area. [2810] (Oils).—We think you might particularly address yourselves to the .undermentioned contractors Thomas Tilling, Ltd., Winchester House, Peckham, S.E.
French's Motor and Garage Works, Ltd., 214, Balham High Road, S.W. Southern Motor Transport Co., Ltd., Wan i.ck Road, Kemp Town, Brighton. E. W. Rudd, Ltd., 16, Aberfeldy Street, E.
If you do not find replies from these parties -satisfactory, Mr. Bristow, the secretary of the C.M.U.A., might be able to make sOine further suggestions.
About to Buy a Second-hand Pleasure-car Chassis.
[2811] (Nurseries).—You can ascertain whether parts will be available for the particular Humber chassis which you mention by definitely ascertaining its horsepower and year of manufacture, or its type description, and communicating with Messrs. Humber, at Coventry. Subject to reasonable use, and reasonable condition at the present time, the chassis should give -satisfaction with a load of 10 cwt., and the mailing cost should not exceed 4w. per mile, apart from
driver's wages. Of course, if you have any misfortune with pneumatic tires, the cost will go up accordingly.
Trying to Keep His Drivers.
[2812] (Co-operative Society).—The difficulties which you are experiencing,. are now affecting a large number of users of commercial motors. Some of these users, of course, have not equal rights to claim exemption. The matter is -occupying the close attention of the C.M.U.A. We can only immediately suggest to you that your company arranges to send a formal application to the Committee which has been appointed to deal with indispensable occupations, and to grant exemptions in connection therewith. This is an inter-Departmental Advisory Committee of the Board of Trade, and the full address is as below :— The Secretary, Reserved Occupations Committee, Board of Trade, House, Whitehall, S.W.
Oil-fired Steam Lorries for Loads of 2 to 5 Tons. [2813] (Brewers).—The following makers can supply the types which you mention :—
National Steam Car Cu., Ltd., Moulaham Works, Chelmsford.
Sheppee Motor Co., Thomas Street, York.
Quick Delivery of Two-tormers.
[2814] (llighb ury). • --So far as our most-recent returns indicate, we are able to advise you that you will probably get best delivery of a commercial vehicle to carry 2 tons net load from one of the fol. lowing:—
Bessemer Motor Co., 1, Albemarle Street, W. H. G. Burford and Co., Ltd., 11, Waterloo Place, Pall Mall, S.W.
Daintier Co., Ltd., Coventry.
Guy Motors, Ltd., Fallings Park, Wolverhampton. Straker-Squire (1913), Ltd., NelsonSquare, Blackfriars, S.E.
-Vulcan Car Agency, Ltd., 163, Great Portland Street, W.
Whiting, Ltd., 334-340, Easton Road, N.W. Willys-Overland, Ltd., 15L-153, Great Portland Street, W.
If we have later advices, you shall hear direct.