One Hears
25th May 1916
Page 3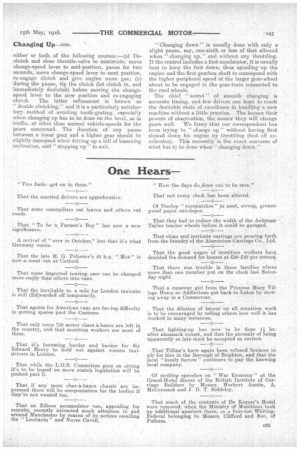 Page 3, 25th May 1916 —
One Hears
Close
" Two fuels—get on to them."
That the married drivers are apprehensive.
That some caterpillars eat leaves and others eat roads.
That "To be a Farmer's Boy" has now a new significance.
A revival of " over in October," but that it's what Germany wants.
That. the late H. G. Pelissier's 40 hp. " Met" is now a meat van at Catford.
That some imported touring cars can be changed more easily than others into vans.
That the inevitable la. a mile for London taxicabs is still (Ed)warded off temporarily.
That agents for American vans are having difficulty in getting spares past the Customs.
That only tome 750 motor chars-à-bancs are left in the country, and that munition workers use most of them.
That it's becoming harder and harder for Sir Edward Henry to hold out against women taxidrivers in London.
That while the-L.G.B. Committee Foes on sitting it's to be hoped no more snatch legislation will be pushed past it.
That if any more char-k-banes chassis are impressed there will be compensation for the bodies if they're not wanted too.
That an Edison accumulator van, appealing for recruits' recently attracted much attention in and around Manchester by reason of its notices recalling the " Lusitania " and Nurse Cavell. "How the days do_draw out to be sure."
That not every clock has been-altered.
Of Dunlop " surepatches " in neat, strong, greaseproof paper envelopes.
That they had to reduce the width of the AultmanTaylor tractor wheels before it could be garaged.
That clean and intricate castings are pouring forth from the foundry of the Aluminium Castings Co., Ltd.
That the good wages of munitionworkers have doubled the demand for houses at £20-X25 per annum.
That there was trouble in those families where more than one member put on the clock. last Saturday night.
That a runaway girl from the Princess Mary Village Home at Addlestone got back to Luton by stowing away in a .Coramercar.
That the dilution of labour on all munition work is to be encouraged by telling others how well it has worked in many. Instances.
That lighting-up has now to be done 1 hr. after almanack sunset, and that the anomaly of being apparently so late must be accepted as correct.
That Tilling's have again been refused licences to ply for hire in the Borough of Brighton, and that the local "lonely furrow " continues to pay the knowing local company.
Of striking speeches on "War Economy" at the Grand-Hotel dinner of the British Institute of Carriage Builders by Messrs. Herbert Austin, A. McCormack and J. D. T. Siddeley.
That much of the contents of De Keyser's Hotel were removed, when the Ministry of Munitions took up additional quarters there, in a four-ton WhitingFederal belonging to Messrs. Clifford and Son, of F ulham.