Recruiting for the A.S.C., M.T.
25th May 1916
Page 12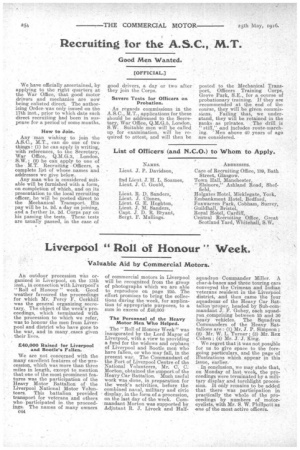 Page 12, 25th May 1916 —
Recruiting for the A.S.C., M.T.
Close
Good Men Wanted.
[OFFICIAL.]
We have officially ascertained, by applying to the right quarters at the War Office, that good motor drivers and mechanics are now being enlisted direct.. The authorising Order, was only issued on the 17th inst., prior to which date such direct recruiting had been in suspense for a period of some months.
How to Join.
Any man wishing to join the A.S.C., M.T., can do one of two things : (1) he can apply in writing, with references, to the Secretary, War Office, Q.M.G.3, London, S.W.; (2) he can apply to one of the M.T. Recruiting Officers, a complete list of whose names and addresses we give below. Any man who is considered suitable will be furnished with a form, on completion of which, and on its • presentation to the local recruiting officer, he will be posted direct to the Mechanical Transport. His pay will be is. 2d. a day on joining, and a further is. 2d. Corps pay on his passing the tests. These tests are usually passed, in the case of good drivers, a day or two after they join the Corps.
Severe Tests for Officers on Probation.
As regards commissions in the A.S.C., M.T. applications for these should be addressed to the Secretary, War Office, Q.M.G.5, London, S.W. Suitable men will be called up. for examination, will be required to attest, and will then be
posted to the Mechanical Transport, Officers Training Corps, Grove Park, S.E., for a course of probationary training. If they are recommended at the end of the course, they will be given commissions. Failing that, we understand, they will be retained in the
*,anks as privates. The drill is stiff,"and includes route-marching. 'Men above 40 years of age are considered.