Liverpool "Roll of Honour" Week.
25th May 1916
Page 12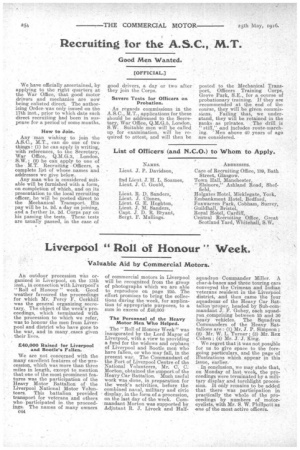 Page 12, 25th May 1916 —
Liverpool "Roll of Honour" Week.
Close
Valuable Aid by Commercial Motors. '
An outdoor procession was organized in Liverpool, on the 13th Inst., in connection with Liverpool's "Roll of Honour" week. Good weather favoured the proceedings for which Mr. Percy F. Corkhill was the general organizing secretary. The object of the week's proceedings, which terminated with the procession to which we refer, was to honour the men from Liverpool and district who have gone to the war, and in many. cases given their lives.
£40,000 Raised for Liverpool and Bootle's Fallen:
We are not concerned with the many excellent features of the-procession, which was more than three miles in length, except to mention that one of the most prominent features was the participation of the Heavy Motor Battalion of the Liverpool National Motor -Volunteers. This battalion provided transport for veterans and others who participated in the proceedings. The names of many owners
044 of commercial motors in Liverpool will be recognized from the group of photographs which we are able to reproduce on page 255. The effort promises to bring the collections during the week, for application to appropriate purposes, to a sum in excess of 240,000 The Personnel of the Heavy Motor Men Who Helped.
The "Roll of Honour Week" was inaugurated by the Lord Mayor of Liverpool, with a view to providing a fund for the widows and orphans of Liverpool and Bootle men who have fallen, or who may fall, in the present war. The Commandant of the Port of Liverpool Centre of the National Volunteers, Mr. C. C. Morton, obtained the support of the Heavy Car Battalion. Much useful work was done, in preparation for the week's activities, before the combined naval, military and civic display, in the form of a procession, on the last day of the week. Commandant Morton was supported by Adjutant R. J. Livock and Half squadron Commander Miller A char-it-banes and three touring cars conveyed the Crimean and Indian veterans resident in the Liverpool district, and then came the four squadrons of the Heavy Car Battalion proper, headed by Sub-commandant J. F. C4obey, each squadron ,comprising between 25 and 30 heavy vehicles. The Squadron Commanders of the Heavy Battalions are (1) Mr. J. P. Simpson; (2) Mr. W. L. Turner ; (3) Mr. Rex Cohen ; (4) Mr. J. J. King.
We regret that it was not possible for us to give space to the foregoing particulars, and the page of illustrations which appear in this issue, earlier.
In conclusion, we may state that, on Monday of last week., the proceedings were terminated by a military display and torchlight procession. It only remains to be added that there was participation in practically the whole of the proceedings by numbers of 'motorcyclists, with Mr. S. W. Philip.° as ene of the most ,active officers.