Mr. T. B. Browne.
25th May 1905
Page 13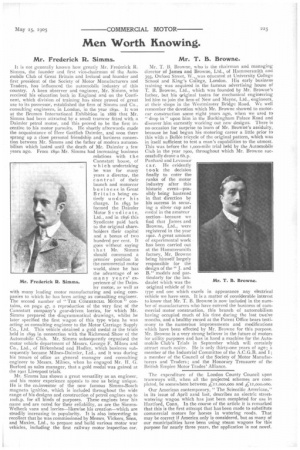 Page 13, 25th May 1905 —
Mr. T. B. Browne.
Close
Mr. T. B. Browne, who is the chairman and managing director of James and Browne, Ltd., of Hammersmith and 395, Oxfam Street, W.,.was educated at University College School and King's College, London. His early business training was acquired in the famous advertising house of T. B. Browne, Ltd., which was founded by Mr. Browne's father, but his original tastes for mechanical engineering led him to join the firm of New and Mayne, Ltd., engineers, at their shops in the Westminster Bridge Road. We well remember the devotion which Mr. Browne showed to motorcar construction some eight years ago, when we used to " drop in" upon him in the Bucking-ham Palace Road and discover him earnestly working out new designs. There is no occasion for surprise to learn of Mr. Browne's assiduity, because he had begun his motoring career a little prior to this with a Boilee tricycle of the original pattern, which was in itself sufficient to test a man's capabilities to the utmost. This was before the 1,000-mile trial held by the Automobile Club in the year 1900, throughout which Mr. Browne successfully drove a 6h.p. Panhard and Levassor c a r. He evidently took the decision finally to enter the ranks of the motor industry after this historic event—possibly being hastened in that direction by his success in securinga silver cup and medal in the amateur sectionbecause we find that James and Browne, Ltd., were registered in the year 1902. A great amount of experimental work has been carried out at the Hammersmith factory, Mr. Browne being himself largely responsible for the design of the " J. and B." models and particularly for the Iandaulet which was the original vehicle of its type and one which excels in appearance any electrical vehicle we have seen. It is a matter of considerable interest to know that Mr. T. B. Browne is now included in the number of manufacturers who have entered the business of commercial motor construction, this branch of automobilism having occupied much of his time during the last twelve months, and a healthy record at the Patent Office bears testimony to the numerous improvements and modifications which have been effected by Mr. Browne for this purpose. Mr. Browne is a very strong believer in the future of motors for utility purposes and has in hand a machine for the Automobile Club's Trials in September which will certainly attract much notice. He is only thirty-one years of age; a member of the industrial Committee of the A.C.G.B. and I; a member of the Council of the Society of Motor Manufacturers and Traders; and the Honorary Treasurer of the British Empire Motor Trades' Alliance.
Mr. T. B. Browne.
The expenditure of the London County Council upon tramways will, when all the .projected schemes are completed, he somewhere between Lx /,000,000 and ..12,000,000.
Our American contemporary, "The Scientific American," in its issue of April 22nd last, describes an electric streetwatering wagon which has just been completed for use in Hartford, Conn. In the course of the article it is remarked that this is the first attempt that has been made to substitute commercial motors for horses in watering roads. That may be correct if America only is considered, but as many of our municipalities have been using steam wagons for this purpose for nearly three years, the application is not novel.