PACKARD COMMERCIAL VEHICLES.
25th March 1915
Page 8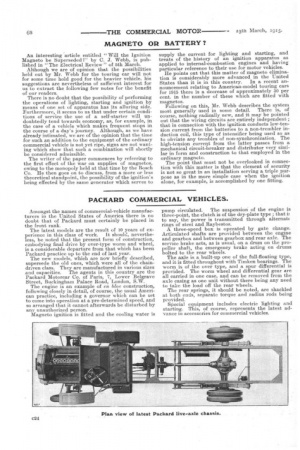 Page 8, 25th March 1915 —
PACKARD COMMERCIAL VEHICLES.
Close
Amongst the names of commercial-vehicle manufacturers in the United States of America there is no doubt that of Packard must certainly be placed in the front rank.
The latest models are the result of 10 years of experience in this class of work. It should, nevertheless, be noted that the present form of construction, embodying final drive by over-type worm and wheel, is a considerable departure from that which has been Packard practice up to the end of last year.
The new models, which are now briefly described, supersede the old ones, which were all of the chaindriven class. They are manufactured in various sizes and capacities. The agents in this country are the Packard Motorcar Co. of Paris, 7, Lower Belgrave Street, Buckingham Palace Road, London, S.W. The engine is an example of en bloc construction, following closely in detail, of course, the usual American practice, including a governor which can be set to come into operation at a pre-determined speed, and so arranged that it cannot afterwards be disturbed by any .unauthorized person.
Magneto ignition is fitted and the cooling water is
pump circulated. The suspension of the engine is three-point, the clutch is of the dry-plate type ; that if to say, the power is transmitted through alternatt rings of steel and Raybestos.
A three-speed box is operated by gate change. Articulated shafts are provided between the engine and gearbox and between gearbox and rear axle. The service brake acts, as is usual, on a drum on the propeller shaft, the emergency brake acting on drums bolted to the rear wheels.
The axle is a built-up one of the full-floating type, and it is fitted throughout with Timken bearings. The worm is of the over type, and a spur differential is provided. The worm wheel and differential gear are all carried in one case, and can be removed from the axle casing as one unit without there being any need to take the load off the rear wheels.
The rear springs, it should be noted, are shackled at both ends, separate torque and radius rods being provided.
Special equipment includes electric lighting and starting. This, of course, represents the latest advance in accessories for commercial vehicles.